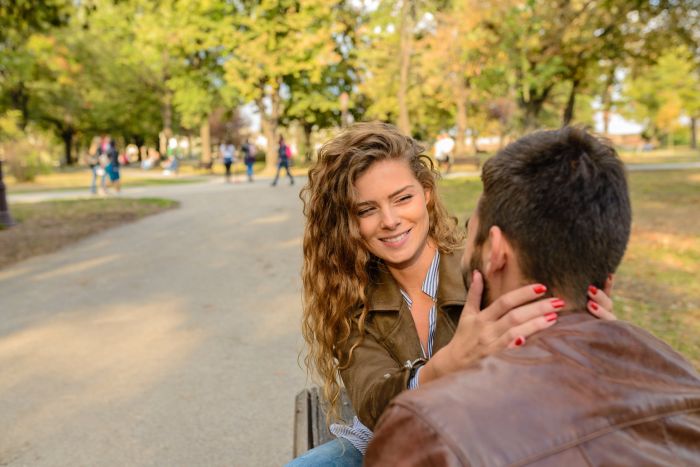 Exploring polyamory isn't for the weak. Dealing with jealous feelings, fear of not being good enough, anxiety about possibly damaging your existing relationship, and exhaustion from the thought of dating again are just a handful of reasons people may not even entertain the idea. The level of honesty and the strength of the bond in your relationship that is required sometimes just isn't feasible, and monogamy remains a safe place to be settled. For others, polyamory is an excellent path for growing and strengthening intimate relationship/s. What if you want this, but your significant other is not so sure?
Never present the idea as though it's an answer to problems, or anything lacking, in your relationship. A man telling a woman he wants to find other women to bang because she doesn't put out enough will, rightfully, get nowhere. A couple exploring polyamory is an adventure you want to share because you already have a good relationship. If you don't, work on that first. Multiply love, not issues.
Highlight the benefits of polyamory. It's entirely reasonable that a happily married husband and wife may want to find a sister wife. Having an additional female companion in your home brings new life and more love to an already successful marriage. Same goes if a wife decides she'd like to have two men. Brother husbands could have an outstanding life together and keep a lady very satisfied. Having multiple adults in a relationship can expand both finances and the capacity to accomplish family goals. Multiple intimate relationships grows your ability to give and receive love.
If polygamy dating is not your cup of tea, polyamory is wide open with options. This is yet another reason a happy couple can safely explore their polyamorous inclinations. They can cater their poly dating and relationships to exactly what works for them. Dating others separately, dating only other men together, or women together, don't ask don't tell, always ask always tell, meeting poly dates on vacation only, sex only with others, or whatever works. This is where raw honesty plays a massive role and your bond can grow stronger while you explore your deeper sexuality together. Keep an open mind.
Polyamory and polygamy usually aren't on your mind when you're younger and new to exploring love and relationships. Americans, especially, tend to get married very young and are pushed to maintain boundaries that cause more negative outcomes than positive. Too many marriages that haven't ended in divorce are drowning in lies and deceit. Polyamory orpolygamy dating can help two people that truly love each other hang onto the spark that brought them together. Few things can be as intimate as dating another person together or talking about a date you enjoyed. Even if every poly date falls through you'll learn so much about each other it'll be worth it. Working together to stay on the same page and opening up about your feelings will only make your relationship stronger.
Embracing the fact that your relationships can be whatever you and your significant others want them to be is empowering. Embracing your authority over self-determination while becoming a more open and honest lover will bring true joy to your relationships. The transparency, respect, and support needed for polyamorous relationships to thrive makes them some of the closest intimate companionship's anyone knows. Best wishes that your significant other will indulge your curiosity and join you for a beautiful poly adventure.

Published By: Christopher Alesich
Matchmakers, Inc: Sisterwives.com