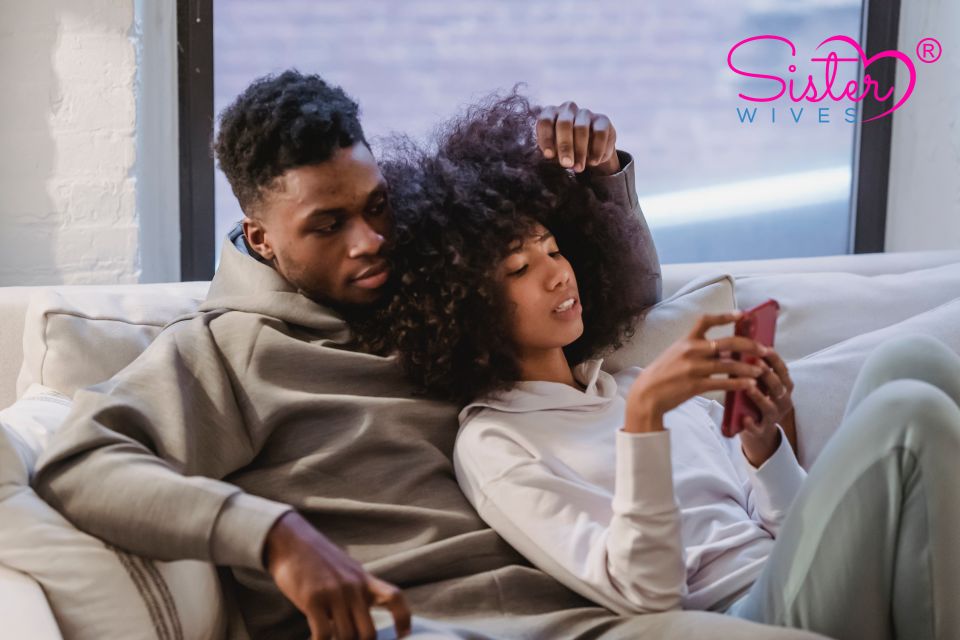 Online poly dating is a tricky digital landscape to navigate. You might spend hours researching how to approach a potential sister wife, let alone a couple that is on a search to find a sister wife. The best advice we can give is to be yourself, remember the best safety and polite practices when online dating, and don't be afraid to make the first move.
You won't get anywhere without pushing yourself even just a little bit out of your comfort zone, and the worst that can happen is you don't get a reply back. The only thing holding you back may be the idea that every single interaction has to be perfect, and frankly, that's just not realistic.
Be yourself
In finding a sister wife, you must be honest not just with yourself but with others.
● Have an accurate, recent profile photo
● Clearly state what you want out of this dating service (i.e. "Finding a sister wife")
● Share hobbies and interests
Be bold, but don't be pushy
Our dating service allows you to message other profiles privately, and you can also invite multiple people to a group chat. The group feature can help ease some nerve-wracking pressure if you're new to dating or if you don't want to pressure someone into a one-on-one conversation.
When you initiate a meaningful conversation, others may be more likely to trust your profile, too. You're establishing yourself as a genuine, real person (i.e., not a bot or fake profile), by asking others about their interests and hobbies.
What's not attractive is spamming someone with messages if they don't respond within hours or days! The best case scenario is that the other person is just extremely busy, and the worst case scenario is they're not interested.
Don't worry—the right person will respond, so don't go to extreme measures just yet. We also alert you when a potential sister wife who matches your profile and interest signs up for our service.
Be yourself, but don't be too open with personal information
We do our best to eliminate fake profiles to help you avoid romance scams, but unfortunately, scammers are using new ways to bypass our human-powered efforts and thwart your efforts in finding a sister wife.
We continuously weed out bogus profiles, but it's always a good idea to be safe online whether you're on a dating service or not.
● Never reveal information that can lead to your physical location
● Never share information that gives someone access to your bank account or credit cards
● Never tell anyone where you work before vetting them
Be vulnerable, but trust your gut
Dating can make us feel euphoric with feel-good brain chemicals like dopamine and oxytocin rushing through us. Unfortunately, these feelings can overshadow the red flags that others may be showing.
● Is the other person overly flattering?
● Do they conceal information about themselves, but always ask questions about you?
● Do their stories add up?
Lies big and small
If you consistently catch someone in a lie—no matter how small—it may be a tell-tale sign that they're not a mature person. Worst case scenario is they're not actually on the dating site to look for a legitimate relationship.
Asking for money
Why would anybody ask for money on a dating site, you ask? To conduct a romance scam! Never send money online to someone you don't know, no matter how urgent they make try to make it seem.
Most suspicious are profiles that ask you to send money overseas through wire transfers or gift cards.
Wanting to meet within days of first contact
If somebody confesses their love within three days of meeting you, you're right to feel skeptical. Our dating service allows you to video call other members to make it easier to find a sister wife who is authentic and honest, helping filter out fakes that may be after your money or targeting catfishing victims.
Don't dox other members
Just because you get rejected by someone online does not give you the right to reveal their personal information to the world or to their circle if you are part of it. In a similar vein, some people may not be out as polygamists or polyamorists, and we should give them the opportunity to come out on their own terms.
Finding a sister wife in the digital age
Online poly dating is full of exciting new connections and poly members who want to join you on this journey. At times, online dating can feel awkward and unnatural, but treat it like you would as an in-person dating event or a casual walk through an unknown neighborhood.
There are people you will naturally gravitate toward, and there are people who you will happily pass by without greeting. Who knows, in your search to find a sister wife online, you might make a lifelong friend instead—there's no lose-lose situation here.

Published By: Sister Wives
Matchmakers Inc