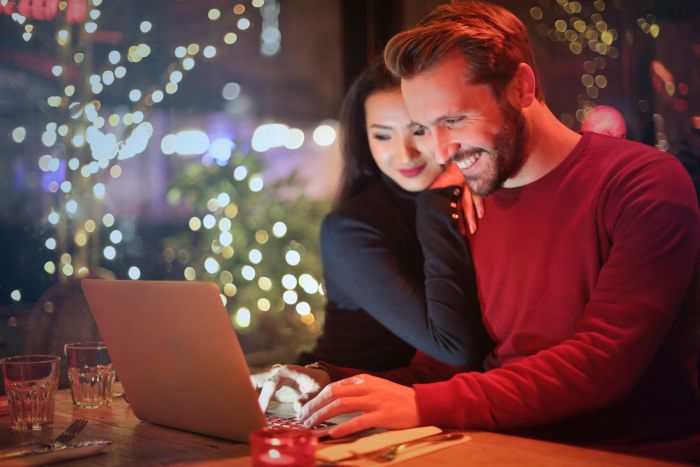 Most people have felt it but many may not have heard of it yet. New Relationship Energy, NRE, is a serious thing! That feeling when you meet someone new and everything seems to fall perfectly in place even though it looks like a mess from the outside. The desire to see this new person all the time and constantly texting them in between. It's the feeling of being on top of the world with someone you swear you can spend the rest of your life with. NRE is a dangerous and exciting phenomenon that can either merge lives together into beautiful relationships, or it can blind people by making them ignore red flags all over the place. NRE can also make or break current relationships if it's inebriating effects aren't reigned in to maintain logical, respectful, behaviors. Polyamorous and polygamous people especially need to be careful when NRE has intoxicated them. It can be productive and enlightening, or it can be addictive and destructive if you're not careful.
In general, for polygamous people, it will be the man of the family that's seeking out potential new sister wives and always having polygamy dating on his mind. It's natural for a man to desire multiple women and the polygamous lifestyle, of course, encourages men to fulfill this natural urge. As long as his current sister wives are happy and the family is functioning in healthy ways there should be no issues with growing the family. No issues today doesn't always lead to a trouble free tomorrow though. If a polygamous man is constantly seeking and dating potential new sister wives one has to wonder where the motivation is coming from. Are his intentions pure or is he addicted to NRE? It's an easy addiction to develop. Love is a drug and when it's fresh in your system the feeling is indescribable. There is no need to be ashamed as long as he can own up to his problem and learn to maintain his focus on always putting his family first.
Polyamorous relationships can run into the same issue of dating for the sake of constantly feeling NRE. Whether a couple or group are constantly dating new people together or separately, it's not fair to the relationship to spend too much energy seeking new people all the time. As with most things, relationships develop better when they aren't being forced. Endlessly seeking new dates removes the magic of meeting someone naturally. It will also put a strain on your existing relationships whether you want to believe it or not. As I've mentioned many times before, polyamory isn't about dating every person you think is attractive or feeding a sex (or NRE) addiction. It's about building multiple deeply loving relationships even after the New Relationship Energy has worn off. A polyamorous person with no moral compass or inclination for self control can quickly become a selfish clown that is bringing the opposite of love into many lives.
It's important to step back and consider your motivation for almost anything you're doing. You should do this frequently. Some things are simple. You know you go to work because you get paid to work and you need the money to live. What about the bar or cafe you frequent? What compels you to choose that place most of the time? Why do you, maybe, prefer one type of shoe most of the time? These things sound trivial but it's a good exercise in learning to be in touch with your motivations. Developing insight into the things that motivate you can help in making better choices, including in your dating life. When you meet someone that is drop dead gorgeous it's easy to fall for them just because they're giving you attention. They could be fresh out of prison for selling crack and their looks can have you under a spell in no time. NRE is strong and you have to watch out for people who know how to use it against you. Being in touch with your motivations can ensure the hottie is a 'one and done' situation, if anything, instead of you or your car ending up in a drug bust six months down the road.
What if it's too late? What if you got wrapped up in a relationship with someone that is absolutely wrong for you and the NRE has worn off? Never forget the power of NOW. The sooner you correct a bad thing the better. You never have more power over a relationship than when you first make eye contact. The early days are a time that breaking it off might sting but it isn't going to create a permanent scar. The longer and more intertwined you become with a person or group you're dating the more energy you're going to have to muster to get out. This is why it's so important to be in touch with what drives you. Pretty eyes can capture your attention but a solid understanding of oneself can steer you to another set of pretty eyes that will build you up instead of wear you down.
New Relationship Energy is a beautiful thing. It should be something to enjoy while it leads to amazing relationships. The privilege polyamorous and polygamous people have to experience it all through their life should be handled with care. It's a gift that can keep on giving as long as everyone involved stays responsible, honest, understanding, and most of all loving. Whether you're sharing the experience with your current lovers or sister wives, or enjoying someone new just for yourself, never neglect the love already in your life. Every relationship helps make you who you are. Make sure you're worth it.

Published By: Christopher Alesich
Matchmakers, Inc: Sisterwives.com