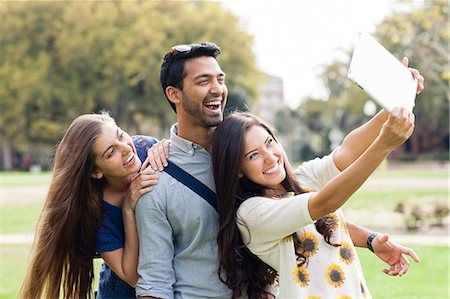 FINDING POLY LIFE AND POLY LOVE
The prospect of finding multiple romantic partners for a long term relationship can seem daunting. Knowing some people will shudder at the thought of polygamy and/or polyamory creates a natural sense of reluctance to always be as open and honest about your lifestyle as you need to be. In time you will build confidence. Looking for a sister wife or to get involved in a relationship with multiple partners won't feel so odd to mention. People reacting negatively to your desires will eventually have little effect on you aside from a brief sigh. Until you've reached that level of confidence having a few safe places to be yourself and find friends and dates will be a life saver. Active participation in the polyamorous or polygamy community will also help build confidence in the community overall.
Polyamorous Meetups are an excellent option. Groups already exist or you can create a Meetup that is more in tune with your preferences. Read Meetups descriptions carefully as there are groups with very specific standards and desires. Polygamy specifically is not a term accepted by some polyamorous people. If you are seeking a sister wife you will not find her at a swingers event (most likely). If you're seeking a second husband you will not find him at a polygamy event so easily as a polygyny gathering. Brush up on your terminology and know exactly what you want to find. This helps ensure you find the correct Meetup or help create one with clear details of the desired crowd for the event.
Polyamory Events are popping up all over the world and their sheer size makes them an excellent option to find your soulmates in an offline environment. The prospect of finding people from your area to build a local poly community or set up smaller local activities is another bonus to major events. Being broad and less specific due to the large number of people involved allows you to explore different facets of the polyamory world and to share your world with others. You may realize there are possibilities you hadn't considered before. Your ideas might spark an unknown passion in someone else. Keeping an open mind and sharing the joy of polyamory only leads to better outcomes for everyone involved.
Online poly communities and dating sites remain the most accessible resource for poly dating. It's easier to avoid meeting the wrong groups or people as well. If you are a polygamist and want a very traditional sister wife to join your family you can be very specific about that and find women looking for a polygamist family to join. If you are a polyamorous single person or family looking for dates or more lovers you can find them with relative ease this way. Being specific and targeting your audience is far easier online than most real life circumstances. The added benefit of building and maintaining an online community is having a supportive place to turn for continued friendships, fun, and advice.
Watch out for fake accounts and scammers, as with any online dating, and use dating sites that are committed to your privacy and protection like Sister Wives. With only a little effort you can be chatting with possible soul mates and building new friendships in no time. Be honest, active, and straightforward and your ideal poly matches will find you.

Published By: Christopher Alesich
Matchmakers, Inc - Sisterwives.com