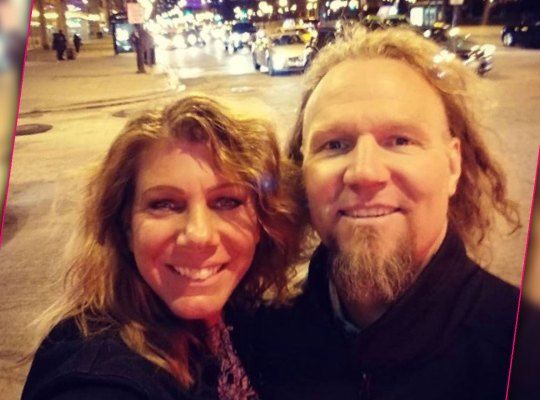 Divorced Meri And Kody Brown Celebrate 'Anniversary'!
Despite a long-troubled relationship, 'Sister Wives' stars cozies up in Chicago.
Meri and Kody Brown celebrated their "anniversary" despite the fact that the Sister Wives patriarch divorced her legally to marry Robyn, another spouse.
This weekend, Kody's first wife, Meri, posted a photo of Kody and herself on Instagram. They were smiling at the camera together on a city street.
She captioned the post: "Kody flew out to Chicago on my last day of #LuLaRoe leadership so we could spend our anniversary together yesterday. How sweet was that?! ♡♡♡ 28 years and still here!
#LivingMyWhy #28Years #Anniversary #Chicago #Happiness."
PHOTOS: Guns, Whiskey & Whips! 'Sister Wives' Son Gets Wild
Meri, who was referring to the LuLaRoe clothing line she's been plugging, appeared to be thrilled that her multi-married husband showed up to honor their big day.
However, the situation is puzzling as Kody and Meri were divorced a few years ago so that Robyn could be Kody's legal wife. Even though Kody considers Robyn to be his "4th" wife, he has never legally married Christine and Janelle, his other so-called spouses.
Also, Meri later got catfished, falling for someone on the internet who she believed to be a man — only to discover it was a woman named Jackie Overton, who had lied to her in a six-month relationship.
PHOTOS: 'Decriminalize' Polygamy! Kody Brown is Fighting For Plural Marriages
Kody admitted that he does not want to be intimate with Meri on a recent Sister Wives episode.
Meri's feelings were hurt and she had a meltdown during the finale of the Sister Wives Tell All special.
Meri cried while the other wives discussed how she and Kody were under strain.
"We dug this hole for 25 years. It's not something we're going to fix with a weekend getaway," Kody told the TV cameras about his "marriage" to Meri.

Published By: Sister Wives
Matchmakers Inc: Sisterwives.com