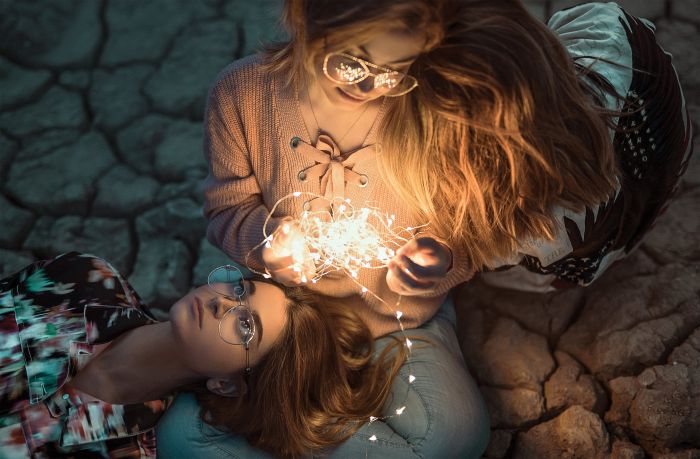 The polyamorous world allows for endless definitions of relationships. When people allow themselves to explore the connections and lifestyles they most identify with, they find a level of pure joy most will never begin to understand. Removing petty societal norms from your views and following your heart let's you find your unique sources of joy in life to explore. An early discovery on the journey into polyamory will be the huge variety of options. It's far too easy to end up with partners that don't really suit your real desires if you haven't explored what you want, or what you might find, ahead of the journey. Here are some terms and descriptions that can be used as a primer as you explore who you are and what relationships mean to you.
Polyamory
Let's start at the beginning. Polyamory breaks down to poly: many, and amory: love. It literally means to love many and the reference is to romantic love. In order to adopt a polyamorous lifestyle one must be capable of loving more than one person while allowing each of them to love more than just yourself, if they choose to. As mentioned before, relationships involving more than one lover come in many forms, so let's move on to the next term.
Non-Monogamy
The assumption here is that a polyamorous person wishes to practice only 'ethical non-monogamy' because otherwise they are simpy cheating. If you have no desire to be ethical in your relationships it's likely you're not even polyamorous. Polyamory infers some level of commitment to lovers, but we'll get back to that later. A non-monogamous relationship can mean multiple partners enjoy a life with only each other, people that enjoy being swingers, open relationships, a don't ask don't tell policy, or whatever a group or couple of partners have decided works for them. The key to these relationships is honesty. Everyone involved needs to be straight forward about the things they enjoy sexually and romantically so that fair ground rules can be set which keep everyone happy and safe within the relationship. Multiple partners should never mean zero commitment to them all. We are responsible to bring all of our lovers joy, not heartache.
Triad, Quad, Triangle
Not all love triangles have to be a bad thing! Everyone within a polyamorous situation doesn't have to be dating each other. In fact, if the world were more honest, viewing love triangles as a healthy and normal option would save a lot of heartache in the world. The scenario where a man's wife finds his best friend attractive, has a few drinks, and ends up sleeping with him (or her) is not uncommon. Same goes for that husband having an interest in sleeping with that best friends' spouse. If they understood that polyamory was an option they could enjoy an even closer bond with each other and maintain their marriages as they are. Polyamory doesn't mean you all need to live under the same roof or treat your relationship with every partner like a marriage.
A triad or quad are simply terms to define relationships involving three (triad) or four (quad) people. Generally, these three or four people will share a relationship that is closer than people in a triangle that are not dating each other, but the level of commitment is determined by those involved. Triads and quads often live together and function very similar to traditional monogamous couples. They can choose to bring as many people as they'd like into the relationship, although it can become more difficult to find partners everyone is interested in as the relationship grows larger.
Nesting Partner
Nesting partner/s refers to the choice of living together or separate from your partner/s. Consider the triangle mentioned before. The married couple that lives together would be considered nesting partners while the best friend that also has a relationship with the husbands' wife, but lives elsewhere, would be her non-nesting
partner. A lot of people in relationships choose to take advantage of the financial benefits of sharing a home but that isn't the only option. Some people prefer living alone or only with certain others. Some people don't mix well living together but make great lovers otherwise. You may be surprised to discover how much you enjoy living alone. If you have the means to do so, go for it! More relationships could benefit from living apart than people would like to admit.
Polygamy/Polyandry
Polygamy and Polyandry refer to having multiple spouses. Polygamy refers to a man with multiple wives while polyandry refers to a woman with multiple husbands. Considering the fact that maintaining more than one marriage is illegal in most places, the labels of wife and husband are typically used only in a symbolic manner. Polygamy and polyandry have been growing in popularity along with polyamory as they are very similar concepts. Polygamy dating and polygamous lifestyles are even featured on multiple television series like 'Sister Wives' and 'Seeking Sister Wife.' This lifestyle is evolving right along with polyamory as well. Sister wives can approach relationships with each other now, unlike the more strict history polygamous families experienced. Brother husbands can be a thing as well and they can also be intimate with each other if they choose to be. The terms polygamy and polyandry today typically reference a more traditional approach to modern plural relationships, aka, polyamorous relationships.
Relationship Anarchy
Relationship Anarchy is a newer term that refers to a lack of pre-set rules. This lack of rules does not refer to no rules within your relationships, rather it means no pre-set rules to follow entering relationships. The idea is to approach each relationship in whatever unique way it works best. Two people can figure out their own rules once they start dating each other. This sounds a little like going back to square one but having explored the multiple options for polyamorous relationships you might find more than one situation would work for you. This anarchy approach is a great way to leave your options open, and to keep an open mind.
An article covering every term and aspect of polyamory would take months to write. It's an ever evolving world where good people are exploring the beauty love makes possible in countless ways. There is absolutely nothing wrong with good 'ole monogamy, but there is everything wrong with enforcing it as the only moral option. Whether you're seeking a sister wife, looking for a third, dating five people, planning on an exciting quad, or wondering how to express feelings you can't avoid toward someone already in a relationship, there are morally sound ways to approach everything. Don't lie, don't cheat, and don't steal. Polyamory is a path to being our best selves, and to multiplying love in our world.

Published By: Christopher Alesich
Matchmakers, Inc: Sisterwives.com