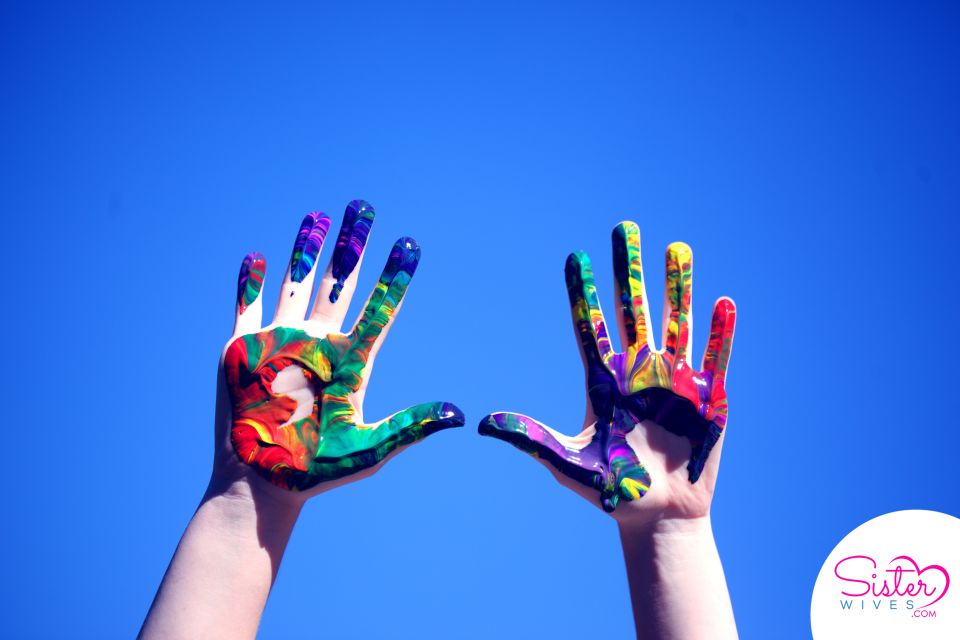 The freedom to make choices is the mainstay of polyamory and polygamous relationships. Whether that's choosing to be a solo polyamorist, choosing to spiritually marry two wives, or choosing to stay in a hierarchical relationship — the point is, polyamory is about the fluid boundaries we get to determine.
But there's also a nagging question about choice in consensual nonmonogamy: is it an innate orientation or is it a conscious choice? There's no clear-cut answer, but the closest we can get to one is that it depends on the person and relationship(s) in question.
For many, feeling alienated by monogamy and rejecting its paradigm can be traced back to childhood. For others, exploring polyamory may have only been triggered after experiencing monogamy first. This latter example is the way most people view polyamory: a lifestyle, an alternative to monogamous relationships that people seek when they feel stifled by tradition. A way to release devious inhibitions.
LGBTQIA+ vs. Poly rights
Neither version is wrong or right. Relationship preferences, sexual orientation, gender — all these lie on a spectrum. However, the problem with viewing polyamory as a choice is that the law then justifies not protecting and advocating for polygamists' and polyamorists' rights using this same argument. If people who identify as LGBTQIA+ are born with a certain sexual orientation, then what right do polygamists have to the same legal protections LGBTQIA+ allies have?
This discrepancy is not meant to conflate LGBTQIA+ issues with polygamist ones, but rather highlight the shortcomings of our legal system in recognizing polygamist families as valid families. Families with three wives and a husband are valid. Families with a platonic third parent and two romantically and sexually involved parents are valid. Families that consist of a quad and multiple children are valid.
Benefits of monogamous marriage
Consider this example. A woman is married to Husband 1 but also lives with Husband 2 and Husband 3 — plus their five kids. Husband 2 is a stay-at-home parent, so they don't have insurance through an employer. Husband 2 falls ill and requires hospitalization. Since he is not legally married to his spiritual wife, he is not on her insurance and so he cannot use her benefits to get medical help beyond the state/federal. The rest must come out-of-pocket or be taken out as debt.
This may not hold true for all insurance companies, but it is a sad reality for many poly families, especially those living on low- to modest incomes. Another stark difference between legally married partners and non-married partners is the inability to file taxes jointly.
Married monogamous couples get to enjoy tax breaks and deductibles. Even if an unmarried poly wife and multiple husbands live together and share expenses, the state does not recognize their union, so they do not enjoy the same benefits available to married couples.
There are countless other incentives to monogamous marriage, including access to a partner's disability insurance benefits and even adoption tax credits. Moreover, parental custody for a poly parent always seems to be precarious. Coming out to friends and family as a polygamist may not be uncomfortable, but at worst, your loved ones can reject your so-called lifestyle.
Children of polygamist families may face a constant threat of poly family in case of an untimely death. For example, one poly wife claimed that her family let her know that if she ever passed away, they would seek custody of her child instead of allowing her child to live with the blended family the child has known since infancy.
Poly identity and political discourse
So polyamory isn't just a choice or a "born this way" attribute. It's a label that changes meaning depending on who you ask. If you ask a staunch monogamist, they might tell you it's a plot to oppress women through financial and social restraint. If you ask a married polygamist, they might tell you it's where their political and personal identities converge.
For many, this crossroad of personal relationships and legal, political rights feels like a battle zone. Until the state fully accepts and recognizes multi-parent homes as legal families, practicing polygamy indeed feels more of a conscious choice than an orientation.
It's not just about making choices about who you're with and what boundaries you're setting, but choosing to take on the battles at large that include decriminalizing polygamy, destigmatizing misconceptions about polygamy, and fighting for polygamy rights.
If you want to learn more about why polyamory and polygamy aren't an official part of the LGBTQIA+ community, we've written a great article here.

Published By: Christopher Alesich
Matchmakers Inc: Sisterwives.com