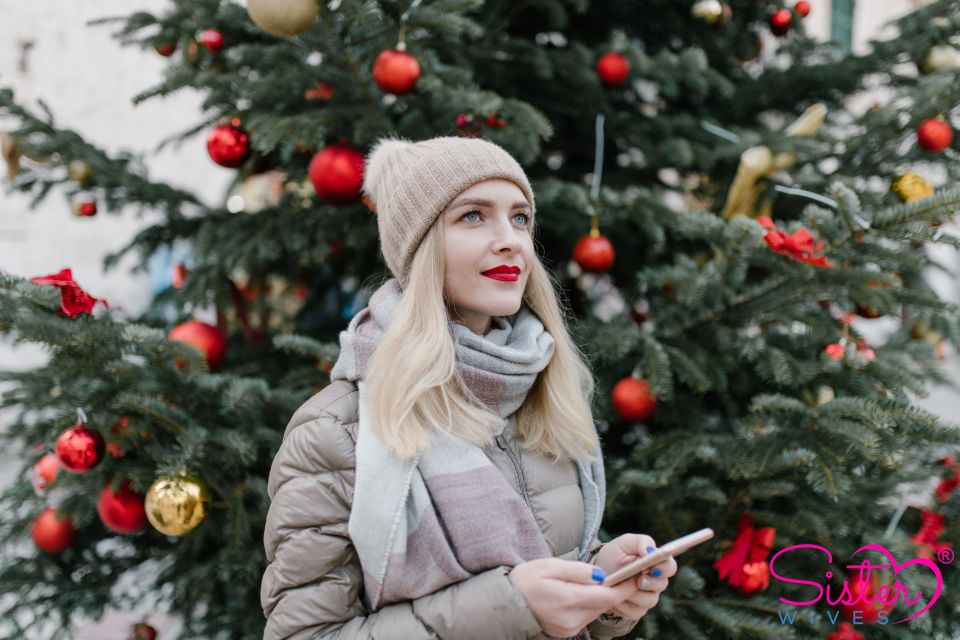 The holidays can be a very busy, yet very gratifying, time of year. For many, it's filled with an abundance of love, but for some, it can be a sensitive season.
Poly dating during the holiday season can be overly demanding on your mental, emotional, and physical health. You have multiple partners to consider, friends to meet, and maybe even kids to think of. If your family celebrates with gifts and food, then you may have even more on your plate. Here's our guide on surviving the end-of-year festivities.
Before you go mad trying to plan, shop, and prepare, consider our tips on managing poly dating during the long holiday break.
Carefully plan your events, but be prepared to make accommodations


Yes, preparation is key to preventing party troubles, but overpreparing can hurt, too. One way you can manage anxiety around poly dating during the holidays is by making sure you speak with your partner(s) about expectations.
Who will be there?


It can feel uncomfortable telling new partners they won't be included in your family party, especially if they're new suitors. But being transparent is the best practice here. Clarify who will be where so you can make the necessary arrangements.
It's also common practice to host different events for different groups. You can spend time with your family in the morning and with your significant others at night without feeling guilty.
How long are the festivities?


When you're having fun, it's easy to lose track of time. Setting temporal limits around celebrations can ensure you don't get overwhelmed if guests overstay their welcome.
Setting a specific time is also crucial if you don't happen to be "out" as a poly couple or individual just yet. If your family were to walk in on your polycule for instance, there's a potential of some awkward exchanges—exchanges you maybe weren't emotionally ready for just yet.
When you stagger events throughout the day, it becomes crucial to enforce time limits.
Are we exchanging presents, bringing food, or just having drinks?


The holidays are big on food, drinks, and presents. Before the party, make sure you and your partners are clear on expectations around these, especially gifts.
● Are you expected to get your metamour a present?
● If you're a secondary partner to a couple who's hosting a dinner with their family, are you expected to bring a dish plus small gifts for everyone?
● If you're hosting a lunch and inviting a primary partner to you and your nesting partner's place, are they expected to come over and help you set up?
These are just a few examples, but they can help open up some conversations about the holidays as a poly lover.
Try to fit in dedicated time with your partners


It helps to find time to speak with your partners one-on-one about holiday plans. This can help prevent hurt feelings or disappointment which could lead to resentment. For example, if you and your partner have been courting another couple for several months, does this mean you'll have a blended family gathering?
This can turn into a game of chicken where both sides will feel let down if the other doesn't make a move.
Again, another situation you might find yourself in is determining whether or not all your partners would even want to spend the holidays together. If you are the host, make sure to let your partners know when the others may be coming so they can plan ahead.
Talk about and clarify boundaries if family members or friends are present


If your family doesn't know about your poly status, you might hold off on inviting your partners to the big dinner. This can make your partner feel unloved if they assume you are hiding them from your parents, siblings, and other relatives. Prepare to have these types of conversations with an extra dose of empathy.
On the other hand, if your partner knows your situation and still wants to participate during the holidays as a "friend," then that could be a way to slowly introduce them to your family.
You might also discuss what level of affection you're comfortable displaying to your friends and family between you and your partners. Is hugging acceptable? Would holding hands on the couch in front of everyone be too intimate?
Start some unique traditions


One way you can strengthen bonds during the holidays is by starting some new traditions. Of course, you may already have some you carried over from childhood, like watching movies on New Year's Day or ordering in on Christmas Eve. Here are some more wholesome ideas to try out.
● Bake a dessert together
● Exchange gratitude affirmations instead of (or in addition to) gifts
● Donate supplies or toys to your local organizations
Don't be afraid to say no


Hosting holiday parties can be taxing. So can attending parties. Be gentle on your mind and body by saying no if you feel like you're taking on too much responsibility or RSVP-ing to too many events.
Here are some ways you can say no.


● Be honest. Tell them you don't have the time or resources to do X thing.
● Offer an alternative even if you say no.
● Turn them down gently by saying you'll have to check your schedule or follow up with your work calendar.
● Thank your friend, family member, or partner for the invitation, but you simply can't make it. You don't owe people an explanation.
Final Thoughts


Poly dating can make the holidays feel even more of a whirlwind, but understand that most poly celebrations look just like any other party. Our main piece of advice is setting boundaries about your time, resources, and intention with every dinner, lunch, or all-day party.
If you want more tips on navigating this busy time, check out our other post about Poly Dating and Christmas.

Published By: Christopher Alesich
Matchmakers Inc: Sisterwives.com