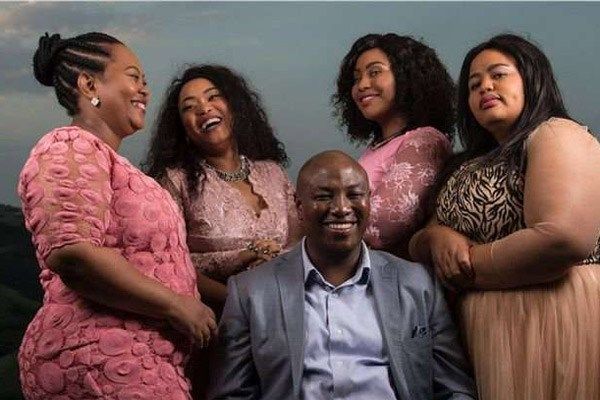 What is Polygyny?
Polygyny (/pəˈlɪdʒɪniː/; from Neoclassical Greek πολυγυνία from πολύ- poly- "many", and γυνή gyne "woman" or "wife"[1]) is the most common and accepted form of polygamy, entailing the marriage of a man with several women. Most countries that permit polygamy are Muslim-majority countries in which polygyny is the only form permitted. (Polyandry is the practice of a woman having two or more husbands.)

In some countries where polygamy is illegal, and sometimes even when legal, at times it is known for men to have one or more mistresses, whom they do not marry. The status of a mistress is not that of a wife, and any children born of such relationships were and some still are considered illegitimate and subject to legal disadvantage.
Incidence
-------------------------------------------
Today, polygyny is more widespread in Africa than in any other continent.[2] Some scholars see the slave trade's impact on the male-to-female sex ratio as a key factor in the emergence and fortification of polygynous practices in regions of Africa.[3] Generally in rural areas with growing populations, the higher the incidence of polygyny, the greater the delay of first marriage for young men.[citation needed] The higher the average polygyny rate, the greater the element of gerontocracy and social stratification.

Throughout the African polygyny belt stretching from Senegal in the west to Tanzania in the east, as many as a third to a half of married women are in polygynous unions, and polygyny is found especially in West Africa.[4] Historically, polygyny was partly accepted in ancient Hebrew society, in classical China, and in sporadic traditional Native American, African and Polynesian cultures. In India it was known to have been practiced during ancient times. It was accepted in ancient Greece, until the Roman Empire and the Roman Catholic Church.
In North America, polygyny is practiced by some Mormon sects, such as the Fundamentalist Church of Jesus Christ of Latter-Day Saints (FLDS Church).

Cause and explanation
----------------------------------------------------
Augmenting division of labor
Boserup (1970)[7] was the first to propose that the high incidence of polygyny in sub-Saharan Africa is rooted in the sexual division of labor in hoe-farming and the large economic contribution of women.

In some regions of shifting cultivation where polygyny is most frequently recorded, labor is often starkly divided between genders. In many of these cases, the task of felling trees in preparation of new plots, the fencing of fields against wild animals, and sometimes the initial planting of crops, is usually done by older boys and men (along with hunting, fishing and the raising of livestock). Wives on the other hand, are responsible for other aspects of cultivating, processing and providing food for the family; and for performing domestic duties for the husband.

An elderly cultivator, with several wives and likely several young male children, benefits from having a much larger workforce within his household. By the combined efforts of his young sons and young wives, he may gradually expand his cultivation and become more prosperous. A man with a single wife has less help in cultivation and is likely to have little or no help for felling trees.
According to Boserup's historical data, women living in such a structure also welcome one or more co-wives to share with them the burden of daily labor. However, the second wife will usually do the most tiresome work, almost as if she were a servant to the first wife, and will be inferior to the first wife in status.[10][page needed] A 1930s study of the Mende in the west African state of Sierra Leone concluded that a plurality of wives is an agricultural asset, since a large number of women makes it unnecessary to employ wage laborers. Polygyny is considered an economic advantage in many rural areas.
In some cases, the economic role of the additional wife enables the husband to enjoy more leisure.
Anthropologist Jack Goody's comparative study of marriage around the world, using the Ethnographic Atlas, demonstrated a historical correlation between the practice of extensive shifting horticulture and polygyny in the majority of Sub-Saharan African societies. Drawing on the work of Ester Boserup, Goody notes that in some of the sparsely populated regions where shifting cultivation takes place in Africa, much of the work is done by women. This favoured polygamous marriages in which men sought to monopolize the production of women "who are valued both as workers and as child bearers." Goody however, observes that the correlation is imperfect, and also describes more traditionally male dominated though relatively extensive farming systems such as those that exist in much of West Africa, particularly the savanna region, where polygamy is desired more for the production of male offspring whose labor in farming is valued.

Goody's observation regarding African male farming systems is discussed and supported by anthropologists Douglas R. White and Michael L. Burton in "Causes of Polygyny: Ecology, Economy, Kinship, and Warfare", where the authors note: "Goody (1973) argues against the female contributions hypothesis. He notes Dorjahn's (1959) comparison of East and West Africa, showing higher female agricultural contributions in East Africa and higher polygyny rates in West Africa, especially in the West African savanna, where one finds especially high male agricultural contributions. Goody says, "The reasons behind polygyny are sexual and reproductive rather than economic and productive" (1973:189), arguing that men marry polygynously to maximize their fertility and to obtain large households containing many young dependent males."

Desire for progeny

Most research into the determinants of polygyny has focused on macro-level factors. Widespread polygyny is linked to the kinship groups that share descent from a common ancestor. Polygyny also served as "a dynamic principle of family survival, growth, security, continuity, and prestige," especially as a socially approved mechanism that increases the number of adult workers immediately and the eventual workforce of resident children.
According to scientific studies, the human mating system is considered to be moderately polygynous, based both on surveys of world populations, and on characteristics of human reproductive physiology.
Economic burden
Scholars have argued that in farming systems where men do most of the agriculture work, a second wife can be an economic burden rather than an asset. In order to feed an additional wife, the husband must either work harder himself or he must hire laborers to do part of the work. In such regions, polygyny is either non-existent or is a luxury which only a small minority of rich farmers can indulge.
A report by the secretariat of the UN Economic Commission for Africa (ECA) quotes: "one of the strongest appeals of polygyny to men in Africa is precisely its economic aspect, for a man with several wives commands more land, can produce more food for his household and can achieve a high status due to the wealth which he can command.". According to Esther Boserup, over much of the continent of Africa, tribal rules of land tenure are still in force.[page needed] This implies that members of a tribe, which commands a certain territory, have a native right to take land under cultivation for food production and in many cases also for the cultivation of cash crops. Under this tenure system, an additional wife is an economic asset that helps the family to expand its production.
The economist Michèle Tertilt concludes that countries that practice polygyny are less economically stable than those that practice monogamy. Polygynous countries usually have a higher fertility rate, fewer savings reserves, and a lower GDP. Fertility would decrease by 40%, savings would increase by 70%, and GDP would increase by 170% if polygyny was banned. Monogamous societies present a surge in economic productivity because monogamous men are able to save and invest their resources due to having fewer children. Polygynous societies have a higher concentration of men investing into methods of mating with women, whereas monogamous men invest more into their families and other related institutions.
Despite the expenses of polygynous marriages, men benefit from marrying multiple wives through the economic and social insurance that kinship ties produce. With a large network of in-laws, these men have the ties they need to compensate for other economic shortages.
Libido
Some analysts have posited that a high libido may be a factor in polygyny, although others have downplayed its significance. The sex drive as a factor in some Asian cultures was sometimes associated with wealthy men and those that were adjunct to an aristocracy,[28] although such libidinal perceptions were at times discarded in favor of seeing polygyny as a factor of traditional life. Other explanations postulate that polygyny is a tool used to ward off inclinations towards infidelity.
Findings
--------------------------------------
Some research that show that males living in polygynous marriages may live 12 percent longer. Polygyny may be practiced where there is a lower male:female ratio; this may result from male infants having increased mortality from infectious diseases.
Other research shows that wherever polygyny is widely practised societies become destabilized, bloodier, more likely to invade neighbours and more likely to fail. This has been attributed to the inequality factor of polygyny, where rich men can take extra wives, leaving more poor men single. A study has also shown that, after controlling for other factors, African children in polygynous families were more likely to die young, due to less attentive fathers.
Effects on women
Exposito, "in a study of the Ngwa Igbo Clan in Nigeria identified five principal reasons for men to maintain more than one wife: because having more than one wife allows the Ngwa husband to (1) have the many children that he desires; (2) heighten his prestige and boost his ego among his peers; (3) enhance his status within the community; (4) ensure a sufficient availability of labor to perform the necessary farm work and the processing of commercial oil-palm produce; and (5) satisfy his sexual urges." Out of all of the reasons stated none are beneficial to the wives, but instead only beneficial to the husbands. In Egypt, feminists have fought for polygamy to be abolished, but it is viewed as a basic human right so the fight has been unsuccessful. In countries where polygyny is practiced less frequently, women have more equality in the marriage and are better able to communicate their opinions about family planning.
Women participating in polygynous marriages share common marital problems with women in a monogamous marriage; however, there are issues uniquely related to polygyny which affects their overall life satisfaction and have severe implications for women's health. Women practicing polygyny are susceptible to sexually transmitted diseases, infertility, and mental health complications. Among the Logoli of Kenya, the fear of AIDS or becoming infected with the HIV virus has informed women's decisions about entering polygynous marriages. Some view polygyny as a means to prevent men from taking random sexual partners and potentially introducing STDs into relationships. Interviews conducted with some of the Logoli tribe in Kenya suggested they feared polygynous marriages because of what they have witnessed in the lives of other women who are currently in such relationships. The observed experiences of some of the women in polygynous unions tend to be characterized by frequent jealousy, conflicts, competition, tensions, and psychological stresses. Some of the husbands fail to share love and other resources equally; and envy and hatred, and sometimes violent physical confrontations become the order of the day among co-wives and their children. This discourages women from entering a polygynous marriage. Research shows that competition and conflict can intensify to unbearable level for co- wives causing women to commit suicide due to psychological distress. Findings show that the wife order can affect life satisfaction. According to Bove and Valeggia, women who are senior wives often misuse their position to obtain healthcare benefits in countries one wife can become a recipient. The conflict between co-wives can attribute to the higher rates of mental health disorders such as anxiety, depression, and paranoia.
Various methods have been used to reduce the amount of jealousy and conflict among wives. These include sororal polygyny, in which the co-wives are sisters; and hut polygyny, in which each wife has her own residence and the husband visits them in rotation. A clear status hierarchy among wives is also sometimes used to avoid fighting by establishing unequivocally each wife's rights and obligations. Although there are several harmful aspects of this practice related to women, there are some reported personal and economic advantages for women such as sharing household and childrearing responsibilities. Also, wives share companionship and support with co-wives.
Criticism
Polygynous marriages play a huge role in maintaining the hold of gender roles across the continent of Africa. Even though African women make up more than half of the continent's population, women hold subordinate positions in comparison to African men. Polygyny helps uphold inequality between the two genders by creating a legal bond through marriage that binds women into a subordinate role. Women across the continent are responsible for a large portion of the production of farming (sustainable and cash crops) yet, men married to these women reap the benefits and are allowed to redistribute their gains throughout the family as they would like.
Premodern era
----------------------------------------
In Africa, the Americas, and Southeast Asia in the Premodern Era, circa 600BCE – 1600 BCE; both monogamy and polygyny occurred. Polygyny occurred even in areas of where monogamy was prevalent. Wealth played a key role in the development of family life during these times. Wealth meant the more powerful men had a principal wife and several secondary wives, known as resource polygyny. Local rulers of villages usually had the most wives as a sign of power and status. Conquerors of villages would often marry the daughters of the former leaders as a symbol of conquest. The practice of resource polygyny continued with the spread and expansion of Islam in Africa and Southeast Asia. Children born into these households were considered free. Children born to free or slave concubines were free, but had lesser status than those born to wives. Living arrangements varied between areas. In Africa, each wife usually had their own house, as well as property and animals. The idea that all property was owned by the husband originated in Europe and was not recognized in Africa. In many other parts of the world, wives lived together in seclusion, under one household. A harem (also known as a forbidden area) was a special part of the house for the wives.
SOURCE: en.wikipedia.org