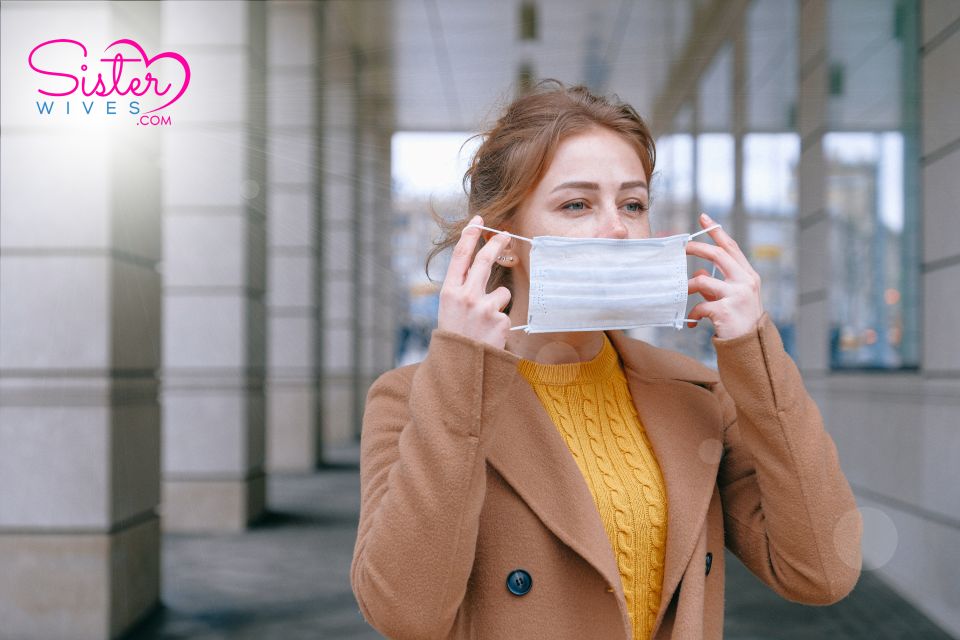 A lot has changed as a result of the COVID-19 pandemic. While most things were slowing down, dating apps saw a spike in traffic. Though obviously dating apps are not a new concept, they suddenly became the only option for many people's love lives.
In this blog post, we'll tell you what to expect when poly dating post-COVID. We'll also dive into what a healthy balance of online and "real world" dating looks like as you set out to build your polygamist or polyamorous family.
Bumble and Tinder aren't the only dating apps: Download the official Sister Wives polygamy dating app FREE in the Google Play Store or use our Progressive Web App for Apple and all other mobile devices!
Pros of Online Poly Dating


When you're a polygamist, it's more difficult to meet someone organically in public than it would be for someone who is monogamous. That's why many poly people have turned to online dating. Dating apps like Tinder and Bumble have broken the mainstream in the last few years and have been successful for many.
We're sure some poly people have found a couple dates there too, as long as they clarified what they were looking for beforehand. That's the beauty of dating apps and websites: You can communicate with each other without exchanging contact information first. This is a great way to feel each other's personalities (and standards for a partner) out before meeting in person.
At Sister Wives, we actually have a polygamy matchmaking system in place to make it easier for our members. This system analyzes every user's profile information and matches people based on that info. It helps you enter the dating pool starting with more compatible users, and also notifies you whenever a potential match has signed up.
Along with most other dating apps nowadays, we also offer video chatting. Since March 2020, video dates have become a much more used option than they were before. Of course there hasn't been many other choices, but many believe video chatting is here to stay.
Why? Because video chats offer a natural next step in between talking online and meeting in person. Sure, you can message people all day long and feel you're hitting it off. But without speaking face-to-face (digitally) you simply cannot know how well you will mesh.
With a texting conversation, you can take as long as you need to think of a good response before actually hitting send on your reply. If you're nervous around new people or don't do well with awkward silences, video dating is a great way to test the waters without actually getting stuck at a restaurant or somewhere you can't easily excuse yourself from. That's not to say you should never date in the real world again (we'll tell you why you should in a minute!) but it does relieve a lot of pressure and make your first in-person meeting that much more comfortable.
This is especially true when it comes to poly dating. The poly community faces its own unique set of potential complications. Just like we feel more comfortable talking over messages, so do phonies. Unlike monogamous people, we join dating sites because we are looking for something serious. Which makes it that much more disappointing if a date stands you up at a public location after you spent time getting ready and making your way there.
Cons of Online Dating


The most obvious con is not exclusive to polygamy dating, but is definitely very prevelant: Catfishing. Catfishing is known as when someone uses photos that don't belong to them and pass them off as their own online. However, it often goes a lot deeper than that.
Many catfishes intentionally hurt people for their own amusement. Or, they're just fulfilling some social desire or using someone's affections to profit financially. Catfishes aren't just defined by the pictures they use. They're defined by lying about their identity.
When it comes to people who catfish in the poly world, there are people who could fit the bill as a typical catfish. However, something that's more common to happen on polygamist dating websites: People are curious. They see the television show with the same name as our Sister Wives website and decide to sign up.
This would be great if the person was both curious AND open to the idea of finding poly love online. Unfortunately, they usually aren't. The good news is that Sister Wives (and we hope all dating apps) are heavily monitored for fakes.
If you come across someone who is disingenuous, report them immediately. Be sure to read our previous article on spotting the red flags in online poly dating to learn how to recognize the signs.
Another con is the obvious missing connection. Sure, video chatting can answer a lot of questions about how you'll click with someone but at a certain point, you want to spend time with them in person. As amazing as the level technology has progressed to is, nothing will ever beat hitting it off in person!
How to Merge The Two Worlds


Online dating may not be a permanent polygamy dating solution, but it sure does give you options. We strongly recommend video chatting before meeting anyone in person. Do this as early on as possible. That way, you'll spend less time getting your hopes up if it doesn't work out. Alternatively, you'll be able to erase those doubts and be able to fully enjoy getting to know your potential partner now that you know they're, well, themselves!
In short, always take advantage of the comforts and insight gained from dating online. It's a great way to date at your own pace and avoid unnecessary anxiety so you can have the best poly dating experience possible!
A perk of joining a poly matchmaking site like Sister Wives is that you won't just find a match, but a community as well. We offer our members access to several helpful resources as they embark on their dating journey including articles, community forums to ask for advice in, and individual blogs to read about other people's journeys.
Our goal has always been to help polygamists and polyamorous people find love and happiness. Your perfect match could be waiting for you here now, so sign up today!

Published By: Christopher Alesich
Matchmakers Inc: Sisterwives.com