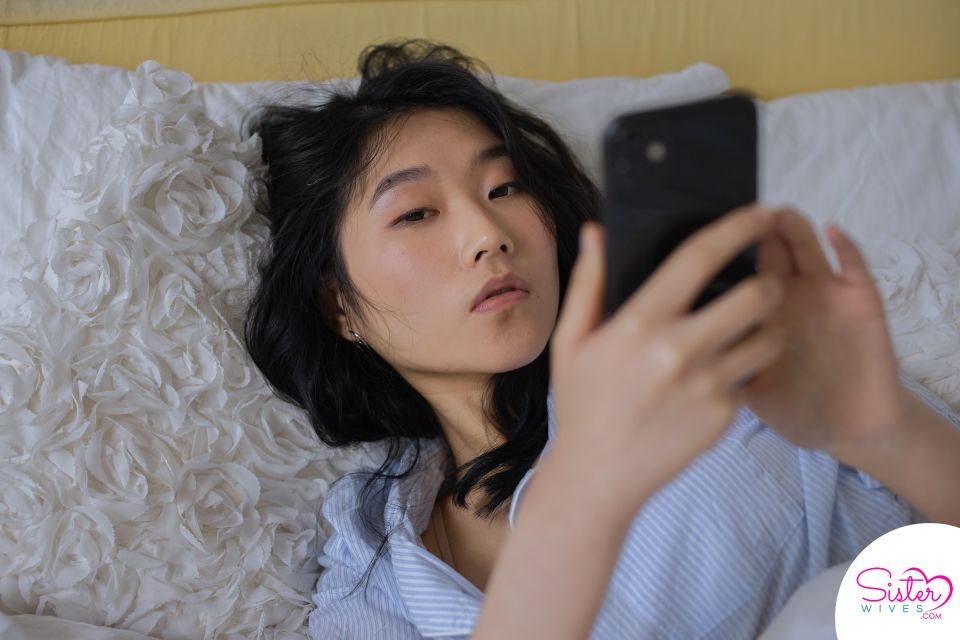 Poly dating apps (and dating apps in general) have changed the matchmaking game. In terms of convenience, better matches, and inclusivity, poly dating has definitely benefited from modern ingenuity. Even so, all the apps out there yield a different user experience depending on what a person is looking for in the dating world.
Most poly apps are available on iOS and Android devices. Alternatively, many apps can be operated on a web browser, which is great if you're using a laptop or desktop computer. I'll walk you through some of the most popular poly apps available to help you determine the best one for you.
Sister Wives

Other noteworthy features: The app is designed for members 17 and up, making it a little more accessible to young adults. Unlike other dating apps, Sister Wives focuses on poly relationships, helping you filter out incompatible matches right from the start. Moreover, our experts weed out fake profiles, ensuring you don't encounter any scammers or suspicious individuals in our database. In other words, the Sister Wives app does much of the work for you so you have a better chance of meeting the right person or people sooner.
Feeld

Other noteworthy features: If you're searching for love as a couple or a poly family, Feeld allows you to connect your profile with another person. This means you and your partner can chat with another person at the same time so you don't have to log in and out of the same account multiple times a day on different devices. Additionally, Feeld's Majestic membership offers features like sharing exclusive photos in your circle and getting notifications about who tagged you in the app. Feeld welcomes people of all genders and sexual identities--making each user feel safe while on the app.
OkCupid

Other noteworthy features: When signing up on either the website or app version of OkCupid, it's straightforward. The matchmaking service gives you the option between non-monogamous, monogamous, or either relationship type right away. You can also specify between long-term relationships, short-term relationships, friends-only connections, or one-time meets. Their gender preferences are inclusive and create an accepting community for both monogamous and non-monogamous relationships.
Ashley Madison

Other noteworthy features: Ashley Madison's been mired in controversies over the years, though the service has revamped its image as an empowering app. With more than 65 million global users, the appeal is straightforward: you are very likely to match with someone in your area. If short-term flings or hookups are something you're after, Ashley Madison might be best. This poly dating app offers a premium membership that gives you access to unlimited messaging--a plus no matter what type of poly relationship you're after. Keep in mind though that the users here typically aren't seeking long-term, committed poly connections, so take this app with a grain of salt.
#OPEN

Other noteworthy features: This poly dating app doesn't limit your matches and searches to a specified mile radius. Instead, you can connect and chat with any user (or any couple) from anywhere. It emphasizes ethical non-monogamy, though it allows you to search for almost any tag including relationship anarchy to a specific kink. If you don't identify with any of the existing tags, the app allows you to create your own tag to help you refine your search and match with people who want the same thing. With over 50,000 Android phone members already on top of iPhone folks, matching with others seems easy. Like the Feeld app, you can chat as a single or a couple.
Other factors to consider when trying polygamy dating apps
Additional charges: While most apps are free to download and use, there may be an additional price for select features. In app-purchases include monthly or yearly subscriptions, more extensive privacy settings, advanced communication tools, and even unrestricted messaging. Note that in-app purchases range anywhere from $1.99 up to $70.00 in some cases, with auto-renewal charges a common practice.
Operating systems: Like other smartphone apps, poly dating apps roll out upgrades frequently to better serve their users. This might mean you have to update your operating system as well, whether you're an Android or Apple owner.
Language availability: Some apps provide language support in over 20 languages, while others provide support in English or another majority language only. This factor might be an important one to consider depending on your location and native tongue.
The founders: Some apps are transparent with their founders and their histories. For many others like myself, this provides not just an element of relatability, but a confidence in people who have access to their personal information.
What's the bottom line? No app may be perfect in every way, but it's worth trying out multiple ones to see what features you do and don't enjoy. You might find that profile sharing for couples is a more important feature to you than unlimited messaging, for instance. If you have experience with any of the apps above besides Sister Wives, let us know in the comments below. We'd love to hear your input.

Published By: Christopher Alesich
Matchmakers Inc: Sisterwives.com