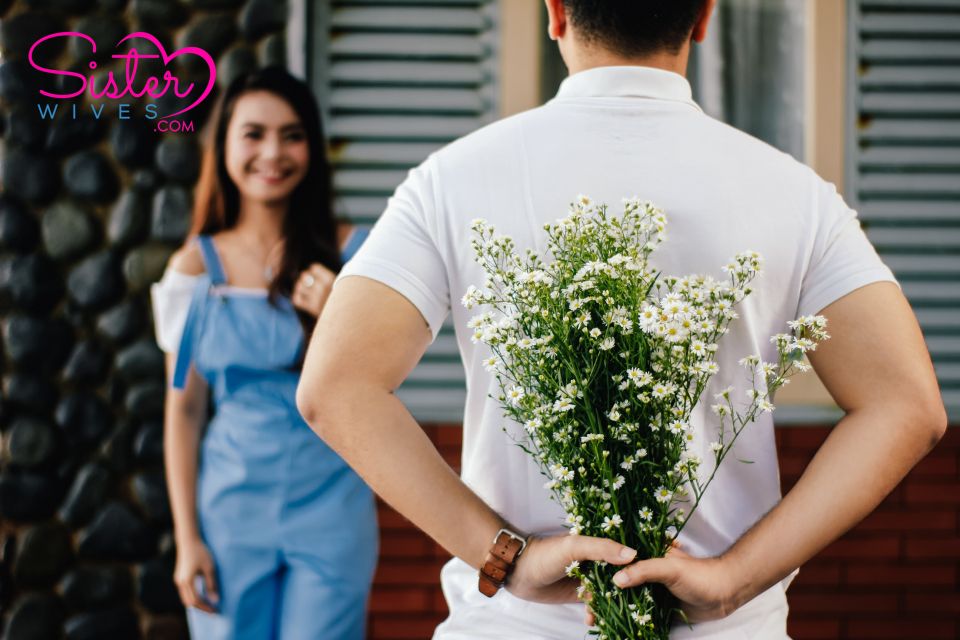 COVID-19 restrictions are mostly lifted, with many states adopting a fully reopened status. But just because restaurants, bars, and stores are back in full swing, it doesn't mean the virus has disappeared. New cases are still growing in a majority of states as of July 2021.
But you're still looking for a sister wife, and want to be cautious. We get it, and we're right there with you. Some basic precautions can help us get back to that "new normal" we've been yearning for the past year and a half. So let's dive in and see how we can keep dates poly-friendly and COVID-responsible.
Go on first dates outdoors or in spacious establishments


Ventilation and space are key to a safe, post-pandemic date. You might know whether a bistro or cafe (or wherever your go-to first date spot is) will be crowded on a given day, but you can limit your choices to COVID-responsible places. Think restaurants with patio seating, cafes with socially distanced tables, or bars with a guest limit. Bonus if it's a rooftop bar or bar with a terrace!
Other ideas I'll throw out are picnics, walks at the park, or even bike rides. This could be an opportunity to try new things with new people - it's a sure way to bond quickly, and it'll be less pressure than your typical dinner date.
Get vaccinated if you can and be honest about your status


If you have the resources, time, and physical ability to get vaccinated, do it. This not only boosts your body's immune system response if you're exposed to the virus, but it protects others around you. Without getting into too much detail and risking sounding preachy about vaccination, I'll leave it at this: it's the responsible thing to do.
If you're been chatting with someone about going on a date and find out they refuse to get vaccinated based on unfounded pop-science research - it might be best to look for a sister wife elsewhere. You have a valid reason to want to know whether someone's vaccinated, and you don't have to sacrifice your health just for a first date.
Alternatively, you might hold off on dates altogether if you aren't vaccinated yet. In this case, video calls, texting, and social media are your friends. Keeping in touch minus the risk has never been easier!
Communicate about your recent travels and whereabouts


By now, you've probably heard of superspreading events - gatherings where many people (from tens to hundreds) are infected by a highly contagious disease. COVID-19's efficacy is no joke, and it's easily spread during social events when your guard might be down.
Common events include weddings, birthday parties, business conferences, long public transportation rides, and gym classes for starters. It's the worst when asymptomatic people go about their daily lives unknowingly transmitting the virus to more vulnerable individuals like the elderly and immunocompromised patients. (Another reason to get vaccinated if you can - you can help save people's lives who are not able to receive the vaccine.)
So the bottom line? Be honest about whether or not you've traveled to a risky event, city, or country. When advised, quarantine for two weeks to avoid infecting others. You and potential sister wives have a right to know about the risks of a date. No matter the burning chemistry between you all, a close-contact date can wait!
Wear a mask when it makes sense


I know you're probably tired of hearing this, but wearing a mask is one of the most basic things you can do to avoid catching and/or spreading the virus. This is most useful in crowded areas or if you've recently traveled to a risky area, but need to be around other people.
A double-layer mask is great and is generally breathable Of course, every building or workplace may have different requirements, so act accordingly. For casual outings, however, a double-layer fabric mask will do just fine.
Remember the 3C's


I'll leave you with this fundamental guideline we've all been following since the start of the pandemic. Try to avoid the 3C's - "closed spaces, crowded places and close-contact settings." Researchers have consistently found that this combination of factors increases your chances of catching the virus and spreading it to other people.
So date ideas that involve the great outdoors, spacious dining and lounging areas, and non-physical contact are our best choices for now. Let's lead by example and show how the poly+ community is still taking COVID guidelines seriously no matter the number of cases.
There is a light at the end of this tunnel, and we're nearly there, so let's keep marching on - safely.

Published By: Christopher Alesich
Matchmakers Inc: Sisterwives.com