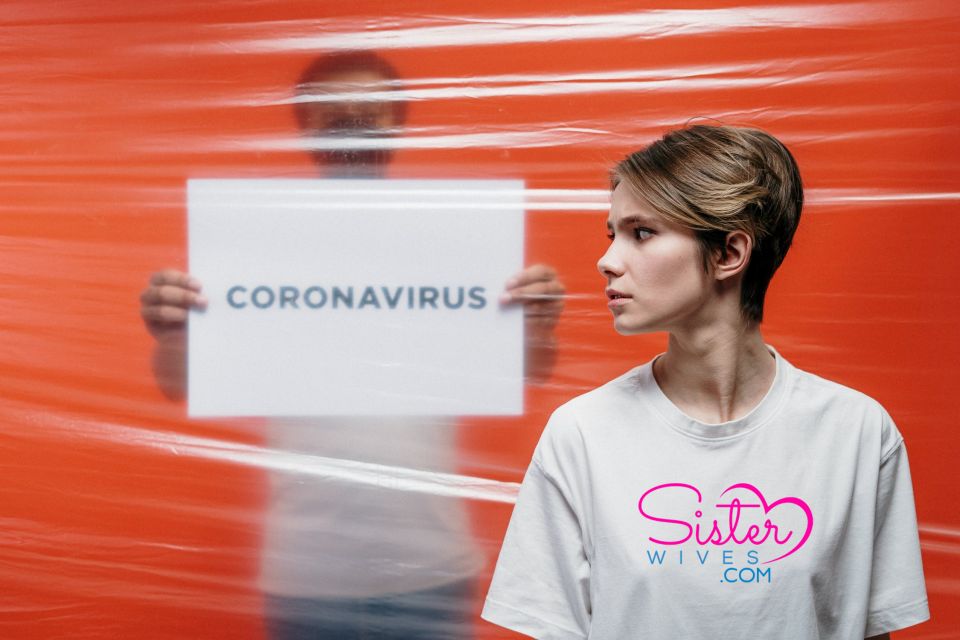 The dating world is tough to navigate no matter your preference for potential partners or lifestyle. Saying hello for the first time, spending those first moments together, and learning about each other is exciting and stressful all at the same time. On top of all of the struggle to find love is the unfortunate reality that disasters will strike. As the old saying goes, *stuff happens. All of us will face things in life that require all of our energy and focus, but the need for human connection cannot be pushed aside. Everyone is living in one of those unfortunate moments right now. Many are stuck at home wondering if life can ever return to normal. Coronavirus, or Covid-19, is likely to change everything for a very long time, maybe forever. Here are some things to consider while confined to home and moving forward as a polyamorous or polygamous person in a world forever affected.
The main thing everyone has to commit to, immediately, is taking outbreaks like coronavirus (Covid-19) seriously. That's the first line of defense. Staying home when a deadly virus is circulating will allow the time needed to reduce the speed of its spread and keep it to a level that won't overwhelm healthcare facilities. Deadly viruses don't have to be so deadly if we can slow them down and ensure access to care to everyone that catches them. If you are in the polygamy dating or poly world consider new ways to date.
Online dating
is a great way to make contact with potential new partners or sister wives, and from there you can plan to meet in person once it's safe to go out again. It's going to be very tempting to meet sooner, but, stay strong and committed to protecting yourself, and everyone else too! If you all get sick, what's the point? Be sick and die together? Don't be ridiculous. Better to be smart together and find ways to have fun in the safety of home.
Look into applications like Skype, Facetime, and Zoom. With some, you can have multiple people in one chat or meeting which is perfect for your polyamorous group, or for all your sister wives to join in. If you prefer to stick to messaging only, you can have movie dates simply by starting a movie at the same time as a friend and message each other throughout. Share a playlist and dance together on a call. You can even get sexy with all of your lovers at the same time on video chat if you're feeling frisky. There are so many ways to hang out virtually with the people you love today. Use them the same with new people you're meeting. Unfortunately, with disaster comes vultures, so watch closely for red flags or scammers. Never send money, nudes, or give out private information to someone you've never met. Many people have nothing better to do than to run scams from home right now, be careful not to waste any precious time on anyone that is suspect. Keep it fun, keep it sexy, find new ways to virtually connect, and maybe even invent new ways! The sky's the limit in the virtual world. Finding a new sister wife, polygamous husband, poly date, or poly partner of any kind has never been more accessible than it is today.
No matter the risk involved, some people will insist on going out into the public and meeting for a date, or worse, going to one or the other's home. It's understandable that, for many, virtual hangouts just aren't the same. It's natural that you'll want to share physical space with each other. While it's risky and absolutely not encouraged there are a few things you can do to mitigate the dangers. Some areas, even areas on lock down, are allowing people to spend some time outdoors in certain places, like parks. Meeting someone new can happen in these spaces, but keep the standards of social distancing in mind. Walk and talk a few feet apart, at least. Don't kiss, don't hug, don't hold hands. Remember that you aren't only protecting yourself, you're also protecting them. Shifting your focus off of self protection and toward protecting others helps with adopting safer behavior. It's not fair, and not right, to put others at risks you were willing to take. Shift your perspective. Going to another person's home during a quarantine involves so many risks it's unimaginable you'd want to do it. If you do, consider bringing a change of clean clothes and slippers to wear in their home. Take a shower when you arrive and leave your dirty clothes in a plastic bag. Wash your hands regularly while you're visiting. Stay at least a few feet away from each other and do not engage in physical contact. If you insist on physical contact, the least you can do for each other is discuss your risk level first. Honestly, if you were too selfish to wait until it's safe you're part of the problem, but there are still steps you can take to mitigate the danger.
Let's get this straight. This is not advice from a medical professional. This is simply a plea for people to take Covid-19, or any deadly outbreak, seriously with a realization that some people will still take risks. If you feel a little under the weather, be honest about it. Don't meet someone that thinks you're completely healthy when you've been feeling even a little sick. If you've been around groups of people, talk about it. If you've been around someone that was diagnosed with Covid-19, it would be unconscionable not to share this information. Take real responsibility for your part in this pandemic and the safety of others.
Polyamory is an exciting lifestyle, but like most good things in life, there are always risks. Online dating and social media are modern phenomena that actually make this pandemic more bearable. Take advantage of it. Be smart. Learn to express your love in new, virtual ways. Humans are incredible. We're able to fly to every corner of the Earth in mere hours nowadays. We're witnessing the darker side of globalism with this rapid spread of a deadly virus, but we can help protect each other from danger while still meeting and mingling in ever more creative ways online. The world may never be the same. Instead of hearing that and being too sad over the loss of days gone, consider this a new opportunity for a better way forward. Polygamy will live on. Polyamory will continue to grow as one of the most beautiful ways to enjoy people you love. Sexuality will continue both enhancing and complicating lives. Change is ultimately good and if we take charge of this situation we can ensure a better, safer, future. Be safe and protect everyone around you.

Published By: Christopher Alesich
Matchmakers, Inc: Sisterwives.com