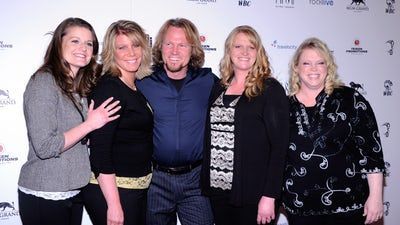 'Sister Wives' Star Christine Is Selling Her Las Vegas Mansion — Take a Tour!
---
It's official, y'all! Everyone's favorite Sister Wives are headed to Arizona with their shared hubby, Kody Brown. However, before the dynamic fivesome can hit the open road, Christine has to sell her spectacular Las Vegas mansion. Check out the video above for a full tour of the reality star's Sin City home.
According to Radar Online, Christine put her impressive abode on the market back in July for a whopping $675K. Seeing as she initially purchased the home in 2012 for $443,315 — that's a pretty substantial markup! Turns out, wives can be savvy with real estate, too.
With five bedrooms and four bathrooms, it's safe to say that whoever purchases the home next will have to boast a family just as big as the Browns. Who knows? Maybe the Duggarsare in the market for a vacation home. All jokes aside, the Browns aren't just moving because they seemingly need more space... you know, because they have 18 children, but they're also looking for a much-needed change in lifestyle.
"As much as we've loved making our home and memories here in Las Vegas, we are excited to embark on a new adventure in Flagstaff, Arizona! We are looking forward to cooler temperatures, the mountain air, scenic views, and the slower lifestyle of Flagstaff," The Sister Wives stars spilled to People on July 10.
And don't worry, folks, it sounds like all of the wives will be making this move. Despite all of the drama following Meri Brown's catfishing scandal, she made it clear that she's still with Kody when a fan asked if they were getting divorced on Instagram. "Uhhhh, did you see the post just three photos back? That's Kody lol! Don't listen to tabloid lies! Haha!" wrote Meri. Janelle also recently promised fans that she's still devoted to her family, and not planning to leave the show or her husband.
Well, here's hoping all of Kody's ladies love Arizona! After all, it's hard enough to please one wife with a new home, let alone four.
Source: inTouch