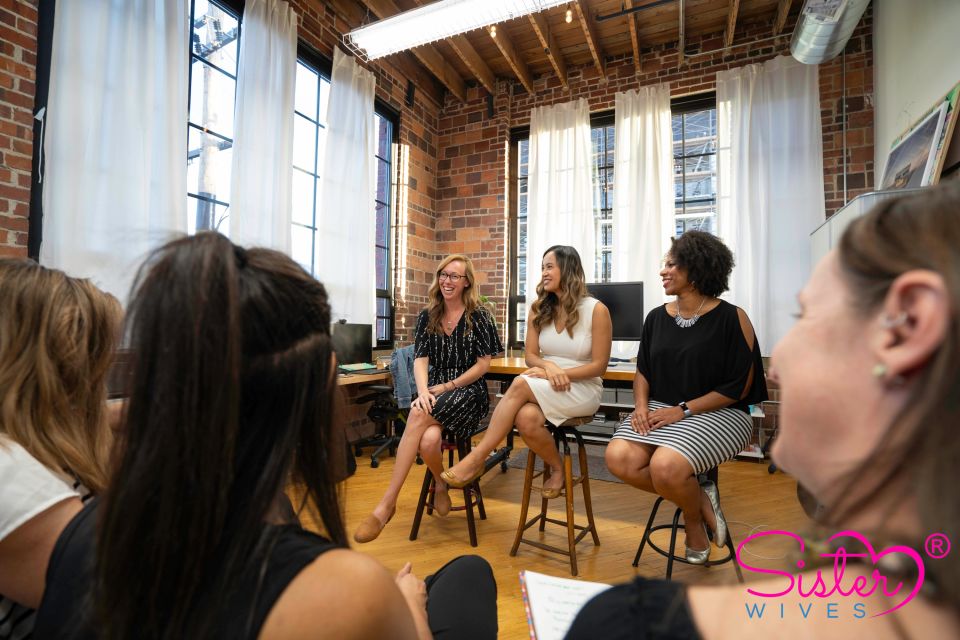 For heterosexual people, there are all kinds of support groups available. From online advice groups to speed dating events, monogamous people are always one click or call away from someone who understands what they're going through.
What about if you need a polygamy community that understands what it's like to feel jealous of a new partner, or feel frustrated at not being able to spend time with your metamour? Fortunately, help is here, and you just need to know where to look.
That Kind of Polygamy Community
One Google query of "polygamy community" yields alarming articles about genetic disasters in secluded polygamous communities, remote ranches inhabited by polygamists, and rural areas that serve as havens for practicing polygamists.
While these areas are indeed very real, they're not the type of polygamous communities we'll be talking about today. We'll be talking about online or in-person communities where the average Joe or average Jane can connect with other like-minded peers.
In-Person Polygamy Meetings
If you're a face-to-face type of person, and you thrive on social relationships, you might want to find groups that meet regularly.
To find them, try going on events-oriented sites and typing up your city. You can also try Google by typing in "polygamy event + [Your City]" or "polygamy support + [Your City]" depending on what you're looking for.
Broader groups like LGBTQIA+ organizations can also provide a way for you to meet other polygamists. You never know—you might also meet your new partner or sister wife through one of these events!
● meetup.com
● eventbrite.com
● groupspaces.com
Online Groups
If you want to keep things virtual, or if you want to vet people before you meet them at a physical location, you're in luck. There are plenty of online groups where you can connect with others about the poly lifestyle.
Facebook
Check out some of these groups I discovered on the platform.
● Polygamy meetup
● Relationships Outside the Box: Polyamory and Open Relationships
● Relationship Success Secrets: Polyamory, Consensual Non-Monogamy, Freedom
● Polyamorous Dating
● Homesteading & Polygamy (polygyny)
● Biblical Christian Polygamy/Polygyny
● Polygamy Personals, Advocacy & Education
● Poly Dating & More in your 30's-50's
● …and more
These are just a few groups I found during a quick search. Your results may yield something different based on your location, and you can also add "[Your City]" to any poly group-related searches on Facebook.
Reddit
For those unfamiliar, Reddit is a forum-type social media platform where you can post comments, send messages, or post images/videos/text. Everything you post is public, but the messaging feature is private.
It's incredibly helpful for seeking advice or making casual connections. Alternatively, there is a cheekier side of Reddit, just like any other online platform, where you may be able to strike up a dating-oriented conversation or exchange some explicit content, given that both parties are consenting.
Check out these useful groups if you want to give the platform a try.
● r/polyamory
● r/Polygamy
● r/SisterWives
● r/seekingsisterwifetlc
● r/PolygamyDiscussion
● r/TLCsisterwives
● r/polyamoryR4R
● r/nonmonogamy
● r/polyfamilies
Sister Wives
We also provide a safe, welcoming space on our site for members to connect. Use our forums section to discuss anything from how to come out as poly to what is the best music genre—any topic is fair game!
Other Sites
Here are a few more forum-type sites you can explore for information, advice, or discourse.
● polyamory.com
● polyliving.net
● polyamorysociety.org
Other Types of Support
If you're looking for other kinds of polygamous information like podcasts, shows, or books, take a look at some of the more popular resources down below. While these may not be your typical poly community, consuming these media can help you get a better understanding of the polygamous lifestyle, its roots, and its current direction.
Podcasts
From dissecting poly love and relationships through a feminist lens to a Mormon viewpoint, there's no shortage of great podcasts to enrich your ideas and knowledge of this lifestyle.
● Polyamory Weekly
● Unmasked
● Year of Polygamy Podcast
● Polygamy: What Love Is This?
TV Shows
Granted, the variety of shows available is limited to reality TV and harrowing docu-dramas, but they provide great insight into the lifestyle, nonetheless.
● Sister Wives
● Seeking Sister Wife
● Escaping Polygamy
● Big Love
Books
Most books that touch on polygamous subjects are autobiographies recounting women's experiences with religious or forced plural marriage If you're dealing with this kind of trauma, hearing others' accounts of similar experiences may validate your feelings and help you process your emotions.
Shot in the Dark: Craigslist or Other Classifieds
Craiglist is nearly obsolete, with the rest of the Internet moving onto more advanced (and probably more secure) platforms like Facebook, OfferUp, Poshmark, etc. However, it may not hurt to post a classified looking for a support group, supportive peer, or something along those lines.
At worst, you receive an unsolicited message, and at best, you find a genuine peer who is also in a poly relationship. Who knows, they may be able to point you in the right direction when looking for a polygamy community.

Published By: Sister Wives
Matchmakers Inc