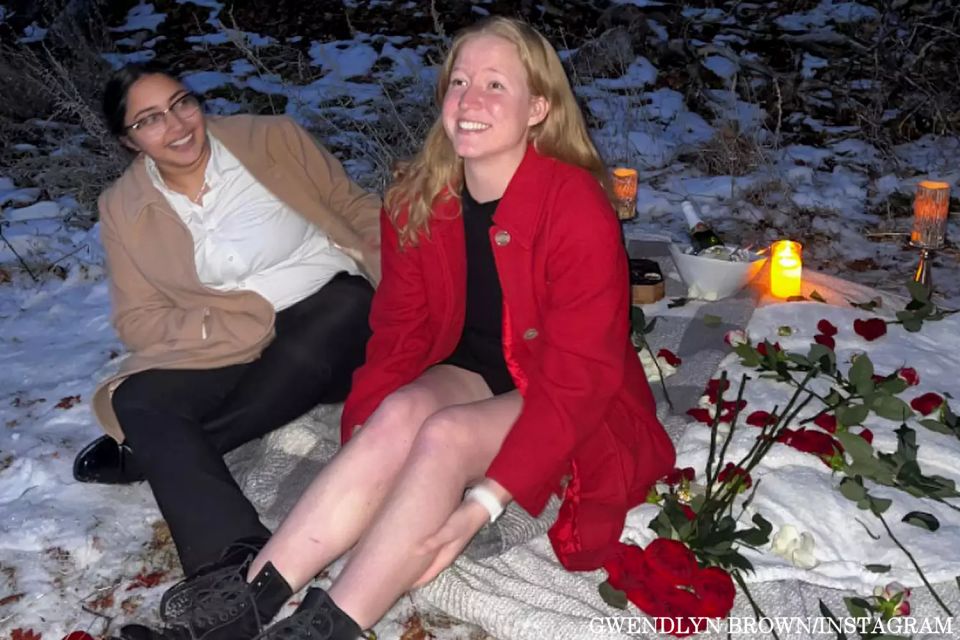 In Episode 6 of Sister Wives' Season 17 released October 16, 2022, Kody and Christine Brown's daughter Gwendlyn addressed her sexuality in front of the camera. While it wasn't a surprise to most (Gwendlyn came out on Twitter two years prior and had introduced her girlfriend on social media months before), it was a milestone for the young woman and the family to speak about it publicly.
During the confessional, she clarified her sexual identity.
"I am bisexual. I'm not only attracted to women; I am also attracted to men and people that fall into other gender spectrums," says the 20-year-old.
On November 30, 2022, Gwendlyn announced her engagement to her girlfriend of seven months. Candid photos shared on Instagram show girlfriend Beatriz Querioz proposing to Gwendlyn in a snowy outdoor location and several photos of the lovebirds sitting on a blanket adorned with red roses and candles.
While the couple is happy celebrating, what does Gwendlyn's parents think of the whirlwind romance—and Gwendlyn's sexuality? Since Kody and sister wives Meri, Robyn, and Janelle practice a faith that denounces homosexuality, a stranger to the show might assume that Gwendlyn's parents and poly family would be against same-sex marriage.
However, with the exception of some of the conservative siblings, the Brown clan supports adults' rights to choose who they want to marry. While Kody is still a part of the Apostolic United Brethren, Christine revealed early in 2022 that she was no longer a member of the church.
What's more, Kody and Meri's daughter Mariah (who has since identified as trans and now goes by the name Leon and they/them pronouns) came out as gay in 2017. Back then, Kody and Meri were stunned and didn't quite know how to react to their young daughter coming out as LGBTQIA+.
This time around, when another Brown child announced that they were gay, parent Christine was supportive and understanding. Though Kody hasn't publicly proclaimed his support for Gwendlyn, he has been active in his child Leon's upcoming wedding—a stark difference from his tolerance-only attitude in previous years.

Published By: Sister Wives
Matchmakers Inc