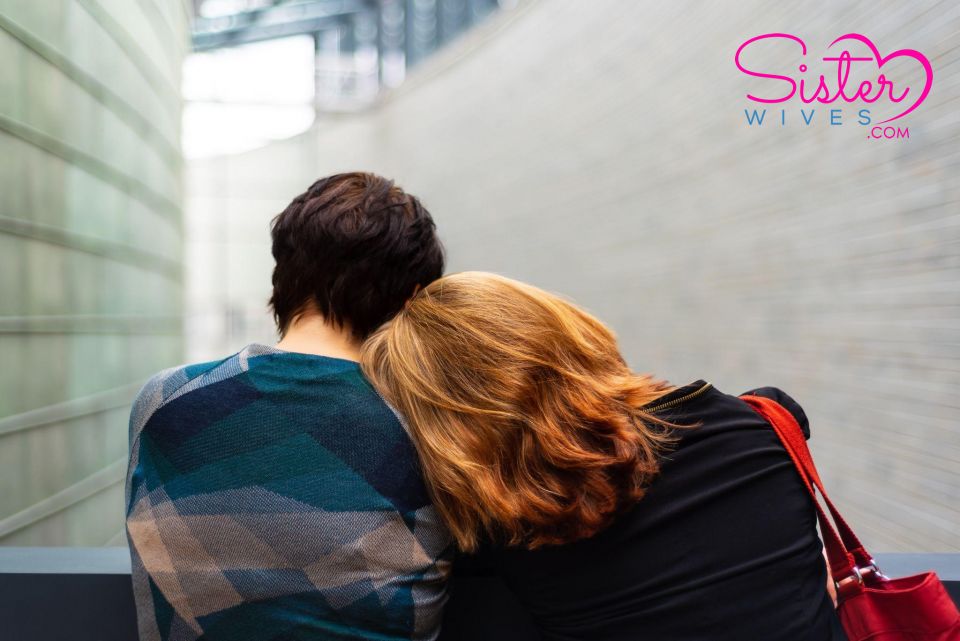 Poly dating and poly relationships can be amazing. Meeting new people and beginning a new phase of your life is exhilarating, especially when you find someone you really click with. However, things can go wrong. If it does, the heartache can have a serious impact on your mental and emotional well-being.
All forms of dating are full of ups and downs, but the experience of polygamy dating is a unique one. It can be difficult to feel confident in your pursuit of finding a sister wife or poly partner when you're new to the community and/or have been burned when poly dating online. That's why we've compiled all the top tips to maintain your mental health while dating as a polygamist.
Set and maintain boundaries


You, your spouse(s) or partner(s), and the person you're dating should all set boundaries that make you each feel safe and comfortable. You don't all have to have the same boundaries, but you do need to respect them. Don't allow yourself to give into any mental, physical, or commitment pressures. If you are the person who is pursuing a new partner, then it's your job to facilitate any communication between your current and potential partner. If anyone in the equation cannot respect your boundaries and use anger, guilt, or other emotional manipulations to force you to shift your boundaries for their benefit, you must remove yourself from the situation. True love does not manipulate in any shape or form, and you shouldn't accept anything that makes you feel unsafe and/or disrespected.
Check-in with yourself


Throughout the poly dating process, frequently take time to reflect on your own. It can be a few minutes each day, or an hour every 2-3 days. Polygamist relationships can move quickly, much quicker than a monogamous one. Taking time to be alone and be introspective can help avoid you getting swept away in the excitement of falling for someone new. Ask yourself things like:
● Are there any potential red flags I overlooked?
● Is what I'm feeling lust or love?
● Do I feel like I can truly trust this new person?
● Will this person make a good partner to me and a good addition to my family as a whole?
● Are our goals and plans for the future aligned? If not, what sacrifices am I willing to make?
Remember that rejection isn't indicative of your worth


If you interpret every rejection as a reflection on your self-worth, poly dating will be a nightmare. Everyone has their own requirements for partners and lifestyles, which they cannot change. As polygamists, sometimes rejection can feel like a harsh judgement of us due to our non-traditional lifestyle. However, it's important to take rejection as a reflection of that person's preferences, rather than as a judgment of you.
Have realistic expectations


Beliefs, values, and lifestyle choices are important in finding a companion, but you should not expect your next partner to share the exact same ones as you. Keeping your feet on the ground will be difficult if you really like someone, but it's important to resist being carried away by fantasies and daydreams. Don't try to fit the person into a specific mold, or be completely turned off when you're unable to do so. This is especially applicable when dating someone who is new to the poly lifestyle. If you're their first venture outside of monogamy, always be prepared for them to get cold feet. A good mantra to have is "hope for the best, expect the worst" - that doesn't mean be pessimistic, it just means don't get overly optimistic and naive. This will help cushion the mental and emotional blow if things don't work out.
Communicate openly and often


When it comes to poly dating and relationships, you can't expect your partner to assume your thoughts and feelings without you voicing them. Vice versa, you shouldn't assume that their feelings or thoughts about you and your new relationship are the same as your own. Directness is an important part of building and maintaining a good poly dating life.
Practice positive self-talk


There is still a ton of stigma associated with people that struggle with mental health, which can make it really tempting to keep it a secret. It can often cause those who are struggling to develop negative self-talk about themselves, which can potentially keep you from speaking up about your needs in your relationships. To alleviate this, try reframing any negative thoughts related to you as a partner, your dating life, and your overall self-worth.
Maintain your own identity


In general, it is natural to relinquish some of your personality, identity, and independence to your spouses/partners as you become closer to them. Although this demonstrates intent to be together, it could harm your mental health. Your identity should not be discarded. Maintaining a feeling of self, especially in relation to your relationship, is not good for either of you.
If you want this, remember to put your mental health first and give priority to your partner's decision to be with you for other reasons. When it comes to a poly relationship, you may end up feeling less of yourself if you keep aspects of yourself suppressed. It is possible that your loved ones may no longer see you as the person they once fell in love with.
Lean on the poly community


Sister Wives is more than a poly dating website and app, we're a community! On our site, you'll find forums, groups, events, personal blogs, and more to help you feel connected and supported. Don't be afraid to utilize these channels to ask for advice and learn from other people's successes and missteps alike. No one will understand what you're going through better than people who have already experienced it!
Be sure to keep up with the official Sister Wives articles section, too. There, you'll get posts that give you poly dating advice (like this one!) and community updates.

Published By: Christopher Alesich
Matchmakers Inc: Sisterwives.com