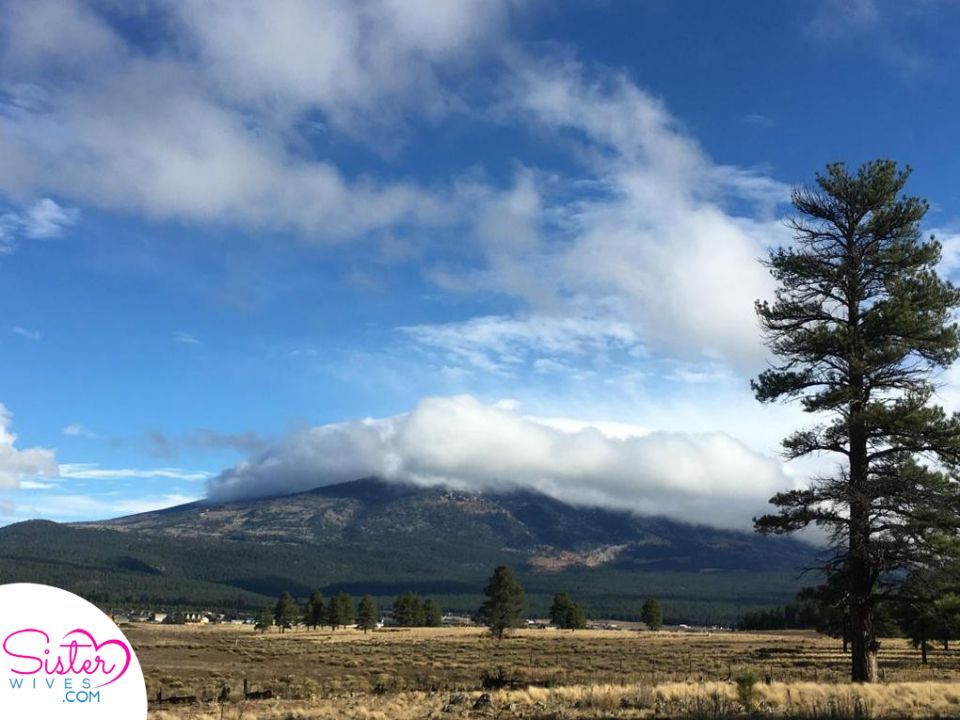 Kody has been struggling to find consensus among his four wives about a grand plan to build out their new family compound in Coyote Pass near Flagstaff, Arizona. On top of this struggle the family faces keeping each sister wife and their kids in homes apart from each other. So far, the houses they've left behind in Las Vegas have not sold, so the financial situation isn't allowing the new builds to proceed as soon as previously planned. The new grandbaby is a lovely distraction for the family (spoiler alert in this article, btw), but the pressures of living apart and facing uncertainty has tempers flaring and it's affecting the kids as well. Let's dig in.
The land in Coyote Pass is stunning. It's an idyllic western landscape and it seems like Kody is trying hard to make each of the four homes for his wives as close to their individual dreams as possible. Janelle and Christine seem to be the most prepared to do whatever it takes to find stability for now then build as soon as possible. Meri and Robyn are a very different story. Quite frankly, Meri is making everything far more difficult than the family should allow. She's all over the place and seems unwilling to make up her mind. It's as though she prefers the drama, which is not much of a surprise. Meri might not even want to live in Coyote Pass and creating roadblocks for the family might be her intention. Her behavior does not suggest that she's acting with anyone's best interest at heart. She can claim she wants to be there in Flagstaff with the family all she wants. Her actions are making it hard to believe. Hopefully she will eventually realize she's being too difficult and adjust her approach. It's doubtful she even has to move again now like she's claiming. Is she just desperate for more of the spotlight? As Robyn says, every plot on the property is absolutely beautiful. They are not victims of anything no matter where the houses are built. Robyn is also being difficult, but her motivation for it does make sense. She has no choice but to move again and she's truly afraid that buying a home right now could delay the builds to the point that her kids won't grow up with their whole family. Her insistence on getting the family all to one place as soon as possible comes from a good intent. Once they find the right home to buy her, for now, and she realizes it can be an income property once she moves to Coyote Pass, it's doubtful that she'll continue hindering the most logical way forward.
Kody shows surprising candor when discussing the situation and the difficulties of plural marriage. He suggests that he's like the little brother to four sisters at times, not even the big brother. He admits that everyone in a plural marriage considers getting out. It can feel impossible. The women will struggle at times with feelings of a lack of affection and a man with sister wives will feel overwhelmed by them frequently. The bond Meri, Robyn, Christine, and Janelle show in these episodes is beautiful. You can see that they love each other very much and, for the most part, give each other unconditional love and support. Kody is in rare form for a few sound bites expressing his frustrations. He suggests he should put his foot down and tell each wife that they get what they get. "Suck it up, buttercup" is uttered in one of his one-on-ones with the audience and it's very funny. It's just not his character to be so harsh. He might be correct. More might be accomplished if he were tougher about it, but his sister wives are no pushovers. They each have strong personalities and clear demands about the homes they want. Meri, again, seems the most distant and unhelpful, but the love she has for the family is clearly still there. Being a good sister wife is important to these ladies.
It's very hard to watch all four sister wives pass up on the opportunity for one big house to share. It would be so much easier to get it built and could be done in a way to give everyone all the space and amenities they need. Sharing utilities, a roof, and all that land to explore could be so rewarding. Even the kids get it! The kids think one huge house would be amazing (and they're right)! The wives are letting past experiences have too much power. Having to adjust an existing home to share would be terrible, yes. Building a giant home from scratch would avoid all the issues they refuse to live with again. They always find some common ground and are absolutely correct this time too. Kody suggests moving double wide trailers onto the property for temporary homes and they all flatly refuse. This can come across as elitist at first, but they each talk about their experiences having already lived in trailers. This was wonderful insight into how down-to-earth and human this family is. Not wanting the family under that kind of stress ever again is a way to protect the love they all share.
Speaking of love! The grandbaby drama is a perfectly fun distraction. Janelle is infectiously excited about Maddie and Caleb's new baby. She coaxes Maddie to reveal the gender to her before the reveal party to the rest of the family and she is so tickled about it, it's adorable. When the rest of the family finds out 'It's a Girl' the moment of joy is palpable. This is a family full of love. Janelle might seem so easy about the property situation because she's overjoyed about her grandbaby. She's doing a fabulous job of sharing calm clarity with her sister wives and keeping them talking. She's also absolutely right about a little park on the property and an agreement that explicitly guarantees everyone access to the pond. The family needs to let her lead as much as she can until the property is built out. Kody is showing his wisdom by letting Janelle lead when she can.
Kody is also showing an admirable ability to love all of his children. Telling Robyn's kids about the move and letting them give feedback shows he and Robyn are raising them well. It's difficult to see the dream of one big happy family at Coyote Pass melting away from the older kids' hearts. Robyn has expressed that she's upset about broken promises to her children and Kody needs to realize the family cohesiveness he desires is at stake if things don't start developing soon. Aurora, their teenage daughter, cannot handle the stress of another move to possibly another rental, or worse, a house they'll buy that's not on the property. She begins to stutter, she grows clearly upset, and she goes into a full panic attack. This moment sums up the situation for the entire family right now. They are a family in panic mode. Kody carries her up the stairs and tries to keep her calm until everything, hopefully, is better.

Published By: Christopher Alesich
Matchmakers, Inc: Sisterwives.com