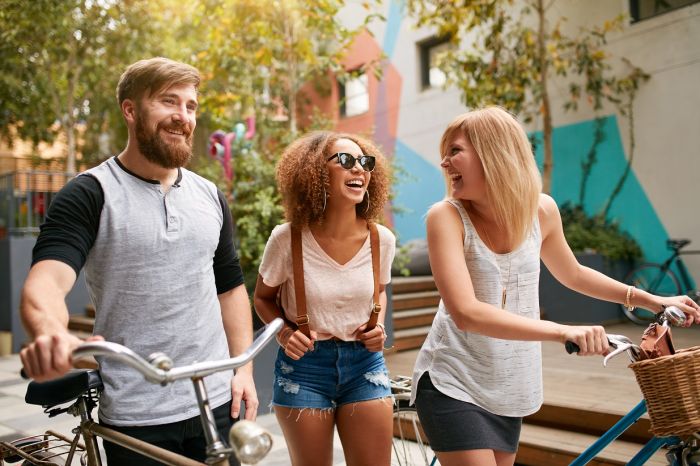 The summer season is full of important social events. Weddings, fundraisers, community barbeques, cook-offs, and more. The toasty warm weather makes everyone wants to be out and about. Going public about your polygamous family is a huge step that must be approached with care. Your family or community may not be as accepting as you'd hope so being prepared for any reaction is vital to a successful reveal. Before picking your outfits and loading up for the ride to the event of the season, you need to figure out how much is appropriate to reveal, and if such an event is even the right place to start. Being the 'talk of the town' is probably not a desired outcome, and the nature of your family and love life is not necessarily anyone else's business. Here are some things to consider.
There is power in numbers. Inviting supportive friends or other polygamous families will make sure you and your family don't feel alone. It will also reduce the notion that your family is so unusual. Unfortunately, responding with fear to something unfamiliar is a very human trait. It's a powerful survival mechanism but isn't always easy to shut off, even when you're perfectly safe. Those that are unfamiliar seeing polygamous people, and their friends, socializing and enjoying themselves just like everyone else will help normalize the idea in their minds. You may not win everyone over. Some people enjoy their limited scope on life and there is nothing you can do about it. Being able to avoid those people and having friends and family near will minimize the effect of those that will never respect you.
If you're in an incredibly conservative community you may have to be more creative. Ultimately, what goes on behind closed doors, and the relationships that work for you, are your business. You are not obligated to explain anything to people outside of your home or relationships. It's not the best way to live, but there are situations where being too open will cause more harm than good. So how do you attend a summer social event with all of your sister wives, or whatever you wish to call all of your partners? There is nothing wrong with 'living with good friends,' and there is no lie in that either. Let people wonder. Whatever simple answer you can give, then move the conversation along, can prevent people from digging too much into your private life. Eventually, ideally, you can reveal the truth with your family and/or community, but we don't live in an ideal world. Your continued success, safety, and happiness are more important than other people knowing your personal business.
Maintaining healthy boundaries is huge when you're a polygamist. If you're looking for a sister wife to join your family you can't look just anywhere. A summer social event might not be the best place to approach a woman about becoming a sister wife. Most often the risks associated with looking for a polygamy related date at a community event will outweigh any possible benefits, however, inviting a new friend to join your family for dinner wouldn't be out of the question. If you are interested in someone be sure to gauge your language appropriately and read their responses carefully. The last thing you want is a person simply being polite while they're horribly uncomfortable and trying to get away from you. Don't be a creep. Everyone has boundaries. Knowing and respecting boundaries will save you from embarrassment and regret in any situation.
Be politely fearless. It may sound weird after talking about avoiding regret, and keeping personal information to yourself in certain situations, but being politely fearless might be the most important key to social success. Living fearlessly is about confidence and not needing the approval of others. Rising above the need for approval means you have no concern for what others might think of you. It also means you fully understand that your personal life is none of their business. You won't be handing over power by giving information to the wrong people. When someone starts digging, or judging, you can find the finesse to change the conversation seamlessly without experiencing any of their intended negative effect.
Have fun! Polygamy dating, finding sister wives, looking for polyamorous dates, or any relationship oriented quest is not out of the question at a community event, but these things are not the actual purpose. Needless to say, they are not the purpose of a family event either, but that's a different paper altogether. If you allow yourself to focus on building social connections with your community you'll find the rewards will be well worth the effort for you and your lovers. There are multiple characteristics that make us individuals. Sharing the characteristics that make you a positive force in your community gives you the opportunity to help shape the community into one of acceptance and support for those that don't follow the traditional path of a nuclear and/or hetero-normative family.
The summer social, in whatever forms they occur, is an anxiety inducing event for most of the people attending. It's a time to learn about the world you live in and make connections to improve your quality of life, as well as the quality of your community. Handling these social events with wit and grace will empower you and help you make the world just a little better, at least. Be the person you've always needed around new people. Say hello first. Your polygamist or polyamorous home and family life should have no bearing on your position in the community, or the opinions of others. Knowing you and your loved ones are prepared for whatever may come lets you drop any guards and simply enjoy the world you live in.

Published By: Christopher Alesich
Matchmakers, Inc: Sisterwives.com