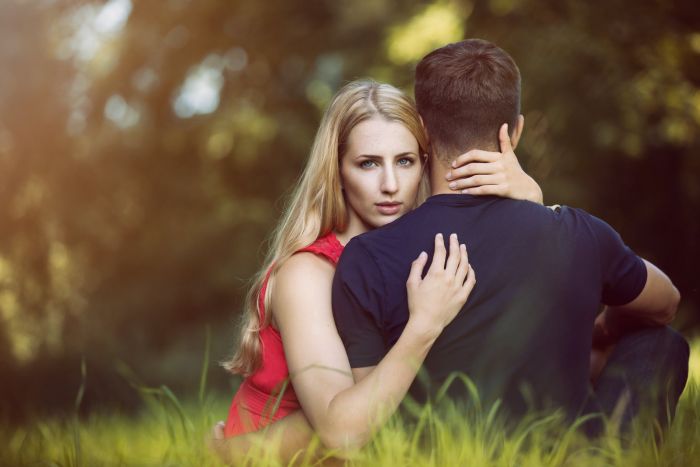 Depression is a serious condition for anyone. It can lead to horrible outcomes without anyone on the outside having any clue it exists, or where it stems from. Your closest loved ones are the first line of defense against the havoc depression can wreak on your life. Polyamorous families, or groups, have the added benefit of multiple partners to spot depression and help loved ones through it. They also, however, have the potential to make a person feel even more alone and helpless if everyone isn't being vigilant about the mental health of everyone they're involved with. Unfortunately, there is little room for error when it comes to mental health. Dealing with depression is not an issue that can wait on a back burner.
Spotting depression is not always easy. A person that needs a little time to themselves isn't necessarily struggling with depression, but if a pattern of isolation is developing it's time to have a talk. The same goes for a consistent lack of interest, constant sleeping, atypical messiness, continuing behavioral anomalies, strange eating habits, anxious or aggressive mood swings, or alarming weight fluctuations. Any time one of your partners are exhibiting any of these behaviors you need to have a talk. It could be as simple as them simply struggling to lose some weight and the lack of food to accomplish this is just making them 'hangry,' or they might be facing something more serious and open up and ask for help. Even when they don't initially open up about depression it's important not to ignore the issue. Finding the balance between pushing someone too much, which is bad, and encouraging them is an art form worth developing. Be very careful not to push someone that is already fragile.
The best way to help is to listen to a person struggling with depression, but first you have to get them to talk. Their willingness to start talking has to come to them naturally so keep in mind that making yourself explicitly available to them is key. Make it clear you are there for them whenever they need you then be ready to drop everything for them. Remember, this is someone you love and if the relationship is healthy they would do the same for you. Don't keep score on who needs the most help at any point (within reason) in your relationships. This is where your process of finding a sister wife or poly partner is vital to ensuring a happy future full of love and support. If a new potential sister wife seems like a person that won't sacrifice herself for the family's well-being it's best to keep looking. If a potential addition to your poly family exhibits selfish behavior and indifference, keep looking for other polyamorous people that will be a benefit, not a detriment, to your life and love. Once you've found a new sister wife or poly partner to join your group or family they too need to know they are privy to the same benefits you enjoy. They should lend support whenever needed, same as you do for them.
It is worth mentioning that often when you're going on polyamorous dates, or dates to seek new sister wives, what you see is not always what you get. New relationship energy can blind people from the truth about someone they're getting to know. Everyone is also on their best behavior while trying to secure additions to, or join, a polygamous family or poly group. Taking ample time to really know a person is important before any commitments are made. Once you've allowed love to settle in and start making commitments it is much more difficult to end a relationship. Look for signs of depressive disorders when you meet new people. Someone with a sharp tongue and full of sarcasm can make a fun friend, but if it stems from a depression deep in them an intimate relationship could bring nothing but negativity into your life. Over-obsession with appearance, frequent complaining, severe indecision, no interests, no friends, heavy drug or alcohol use, etc. Some of these could be explained away but it's worth noting them and finding the source of the behaviors. You never have more power over a relationship than in the beginning. The longer you let it go, the harder it will be to end.
All of this being said, you can't expect depression will never develop in yourself or someone you love. Ten happy years in a happy polygamous family or poly group does not mean someone among your loved ones can't fall into a depression. You have to be there when they need you and sacrifice yourself to get them back to a happier place. While this is true, what are the limits? It's very hard to tell someone you love, or even a friend, that you have to remove them from your life because they are toxic, but being in an intimate relationship does not give anyone involved the right to ruin anyone's life. Perhaps the hardest decision some people have to make is to tell a lover they care for deeply to get out of their life. The limits of how much you can handle from another person are different for everyone, but if you are consistently being dragged into someone's depression you cannot stick around. When you are being treated poorly by a lover you can't spend the rest of your life making excuses for them. If you dread going home more often than not for extended periods of time, all the time, you have to make a change. Accepting the harsh truth when someone cannot be helped will spare you a ton of heartache in life. The decision should never be taken lightly, but it also shouldn't be put off so long you forget how it feels to not live with depression, yours or your lovers.
If a depression that can't be helped happens to develop in you, it's time to decide how much you can ask of your sister wives or lovers? How long can you keep dragging them down? At what point does your desire to hang on to your relationship cause a level of harm that will only drive you further into your darkness? It is insanity to maintain a life or behaviors that bring no good into your world. Don't leave it up to your lovers to find the help you need. Do it because you love them. There is no shame in doing the right thing out of love for someone or something other than yourself, and in doing so, love for oneself is often rediscovered. It's cliche and a bit annoying, but true, happiness is largely a choice.
The amount of happiness possible in the world of poly and polygamous dating is breathtaking. Building your polygamous family or discovering your poly group is an exciting and fulfilling process that really never has to stop. Life will always get in the way. There could be developments like hormonal imbalances, tragic experiences, past trauma, medical conditions, financial disaster, or death. Any or all of these things can happen to anyone. Digging back out of feeling suddenly buried alive can take a long time and require massive support, but it can be done. It's so important for polymorous people and lovers to be there for each other. Polygamous families as well. With each other we can survive whatever tragedies may come. Give a hug, lend an ear, share your experience, and share your love. We're all in this together.

Published By: Christopher Alesich
Matchmakers, Inc: Sisterwives.com