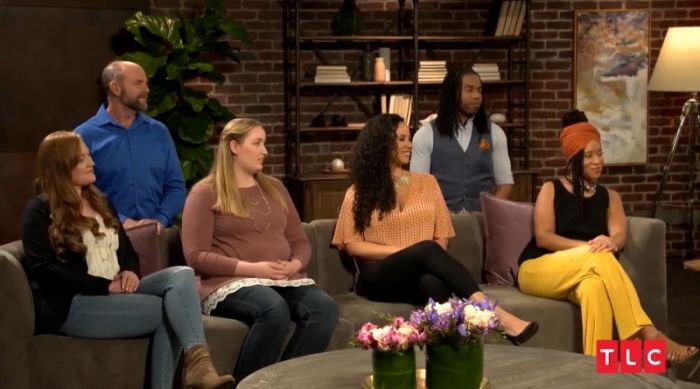 TLC's hit show 'Seeking Sister Wife' has been a roller coaster of emotions both on and off screen for the past year. The number of life changing events and level of real life drama among the cast has left fans wondering if it will even be returning for a third season. TLC is no stranger to tragedy and drama, but questions remain about the viability of the show as we know it. A key star of 'Seeking Sister Wife' has passed away, relationships have started and ended in dramatic fashion, and the show has been subjected to plenty of public scrutiny concerning its edgy content. No announcements yet, as of the middle of January 2020, could mean 'Seeking Sister Wife' either has outdone the turmoils of other shows and met its demise, or TLC is letting the tension build ahead of an explosive new season. They're certainly not at a loss of fans or entertainment value they'd be crazy to pass up on.
What's all of the hubbub? Here's a rundown for any newbies or curious folks out there, and a refresher for everyone else.
The death of Bernie McGee in June of 2019 was a major blow to the show as he and wife Paige were not afraid of a dramatic battle of words and will. The couple's time on the show involved the search for, and dating experience with, a possible sister wife to join their family. It was later revealed that Bernie had a closer dating relationship than revealed on the show with their now ex-girlfriend, Brandy. Brandy outed Bernie for kissing him intimately and attempting to initiate a sexual encounter that his wife Paige knew nothing about. The fireworks that ensued made for an emotional live interaction between the three. Paige ultimately denied the accusations and defended her husband. The show continuing without Bernie may sound like too big of a feat, and Paige has expressed no interest in another season, but TLC hasn't made an announcement suggesting any intent to cancel.
Another scar on the show is the surprising and unseemly nature of the demise of another polygamous relationship from the second season. Dimitri and Ashley Snowden had welcomed Vanessa Cobb into their marriage which was a central theme of season two that ended up in an elaborate wedding ceremony as well. Not long after the seasons Tell All episode Vanessa suddenly left the Snowden's. It was a long courtship, big wedding, lots of hype, then a sudden end. There was speculation the relationship wasn't real as well as accusations that Vanessa used the Snowden's, and the show, to seek fame... not to honestly seek being a sister wife. The 'throuple has since refuted all such claims and confirmed they all still love each other, but polygamy simply didn't work for them. Dimitri and Ashley also confirmed they will continue looking for a sister wife to join their family. They affirm that polygamy was not the issue with Vanessa. It just simply did not work for her the way she had hoped.
The second season started to experience turbulence even before it aired in a situation that involved the Briney family who were cut from the show entirely. After filming the second season, April Briney decided to leave her family. The tabloids covered the split heavily and the choice to cut the Briney's came down to the desired direction of the show. Sister wives splitting from their families doesn't suit the narrative of 'Seeking Sister Wives' well. Ignoring some of the harsher realities of dating and marriage to focus on positive dating themes may not have been the best decision, but it certainly shouldn't prove to be fatal.
The timing of these major events has understandably created a lot of uncertainty for fans of the show. 2019 was undeniably a difficult year. TLC has not eased any speculation about the show's demise by remaining silent about it. While fans are concerned by the TLC's silence they should also consider it a little slice of hope. It's clear 'Seeking Sister Wife' has not yet been cancelled. TLC, and other productions in general, have no habit of secrecy surrounding the cancellation of shows. They also have little to gain by avoiding such announcements, but a lot to gain from allowing the build-up resulting from uncertainty. The best we can do for now is consider the facts and make a well informed prediction.
TLC is no stranger to turmoil, or even death, surrounding their shows. They often choose subject matter that most other networks won't even consider. Polygamy was not a safe lifestyle to cover to begin with and they haven't expressed any regrets about it. Their other polygamy based hit 'Sister Wives' is alive and well. In fact, the delay in announcing a third season could be from recognizing the need to reconsider its timing. 'Sister Wives' is on its 14th season. The amount of attention and drama 'Seeking Sister Wife' has drawn might threaten to distract from an existing hit, so airing it later in the year could help keep both hits alive and thriving. Popular shows have to evolve in order to hold their audience.
Losing any cast member on a show throws the entire production into a whirlwind, and Bernie McGee was no minor character. His sudden death, along with Vanessa's split from the Snowden's and the Briney's being cut from the show, means TLC has to search high and low for new people to fill a number of roles. Casting is no easy task and it makes or breaks a show. Casting for the third season was announced in April of 2019 before the death of Bernie McGee, which likely delayed and/or extended the timeline necessary to meet unexpected new demands.
Relationship drama that leads to break-ups or divorces may have been underestimated with the original direction of the show. TLC itself helped bring polygamy into the spotlight and may now have to adjust their presentation of the lifestyle to accommodate the very evolution they encouraged. The number of people interested in becoming or finding a sister wife has swelled with the popularity of TLC's productions. Heavier vetting of cast members, and consideration about people that are new to the lifestyle having a sudden change of heart about polygamy, is a natural development that will have to be addressed. 'Seeking Sister Wife' quite possibly is being held up while they explore new angles and ideas to keep the show current and fresh.
None of the events influencing the shows future have merited a loss of funding or positive support. Breaking up, divorcing, or suddenly dying are all tragic and painful in their own ways, but not revelations of hidden corruption or poor character. Vanessa Cobb was accused of using the show to gain celebrity, but it's become clear her relationship with the Snowden's was very real either way. More than average negative press or opinions about the show existed since its inception as a show about polygamy dating, and will never change. Otherwise, nothing has happened to create any significant new ill will toward the cast members or the production.
'Seeking Sister Wife' has drawn so much attention it's clear TLC would not want to cancel it. A simple Google search pulls up multiple results from all corners of the media. Popular shows have been canceled before, but in this case it appears extremely unlikely. Actually, outgrowing your original concept and evolving to keep up with the characters, and your audience, are signs of a bright future. TLC's mission to both inform and entertain through unique and sometimes difficult productions shows no sign of changing. Maybe 'Seeking Sister Wife' will make a great summertime series? Maybe it will explode back on the scene with a fresh concept and an incredible new cast (mostly) this fall. The summer of 2019 was a destiny changing phase for the show. Either way, it's safe to say we'll know when to expect season 3 soon. It would be no surprise to see the announcement coincide with the end of the current season of 'Sister Wives'. We'll be watching. Stay tuned!

Published By: Christopher Alesich
Matchmakers, Inc: Sisterwives.com