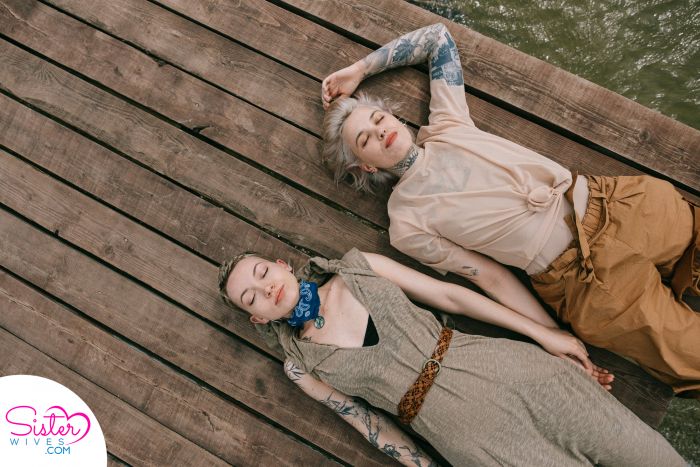 Many people considering polyamory are discouraged by the unnatural feeling of the idea. Marriage involving only two people has been society's standard for so long that other options simply feel wrong. Fighting our natural inclination to love more than one person intimately has become a badge of honor. Monogamy works for a lot of people. There is absolutely no fault in it as long as it feels right for two people that choose it. There is a major problem with the judgment others face when they choose other standards to follow. The fact that the ability to have a relationship with more than one person takes time to master is not due to any fault in it. It's a natural lifestyle that has been suppressed to the point of needing to be nurtured until you get it right. Society is waking up to polyamory and poly relationships are becoming safer and better for everyone involved. Here are ways you can embrace your poly dreams, or the poly relationships of your peers.
First off, all relationships are work. Even parents and their children have to work at maintaining healthy relationships. Most great friends go through a rough phase and have to decide to put their love for one another above their qualms. Love is complicated and deep. Assuming anyone wants a poly relationship due to a lack of ability to commit is unfair, and frankly, rude. There are few things more childish than adults that want to hold everyone to their personal standards and preferences. Building a poly family takes a lot of backbone. Your relationship will be judged harshly and you will face people that believe you are living in sin. All of this will be in addition to the normal struggles of any relationship. You will always have a dozen reasons to quit and plenty of people that will believe they're helping you when you lean on them to leave a plural relationship. Be wary of the intentions of those that don't respect you to begin with. Don't leave people you love in an effort to live right in the eyes of others. Always build on what is right for you.
The argument that plural relationships are not natural is a total non-starter. Mating for life exists in nature, sure, but it is not the only form of reproduction. There are many ways animals mate, even some rather violent ways. Few mammals have sex for both reproduction and enjoyment, but humans are one of them. The very nature of our intimacy, sexual urges, and ability to love multiple people so deeply shows that 'mating for life' is very likely the less natural option for humans. It's important to stop concerning ourselves with natural things. We, as a society, should be supporting the human capacity to make our own choices. Cars are not natural. Brick and mortar homes are not natural. We don't think those unnatural things are somehow sinful. Why would we consider a relationship that makes someone happy somehow evil? It's not. What's evil is the desperation to control every single person and thing around us in an effort to feel safe and validated. Find the things that are right for you and respect the right for others to choose whatever makes them happy. It's really that simple.
Once you've found the life and loves that make you happy it's important to encourage others to do the same. We owe it to each other to help bring out the best in every life we touch. If you have a friend that wants to become a sister wife, be a friend she can turn to if anything goes wrong. Don't judge her. Love her. If you have a friend that wants to build a polygamous family and find multiple sister wives, help them find good people and embrace their family like any other. Pushing people with different lifestyles to the fringe of society leads to dangerous situations where people are afraid to get the help they need if things go awry. There are monsters in the world we can protect each other from simply by loving and fully respecting all the good people in the world. Why would you want to be a person that makes the world precarious for anyone else? The golden rule applies, do unto others as you would have them do unto you. Take it a step further and go out of your way to do more for others than you ever expect anyone to do for you. Nurturing the best in others only makes your world better in return.
Polyamory is a beautiful lifestyle that can lead to a world with less loneliness and happier love lives all around. It's absolutely not right for everyone and it's not easy to make the adjustment. If you're fortunate enough to find the right people that share your poly dream, the possibilities are endless. You don't have to close yourselves off to the world. There's no need to reject or lie about any desire or attraction you may have toward others. Even if you're part of just a couple that's only open to the idea, your relationship will benefit from the level of honesty you can share. Being open to new things and supporting the natural feelings of your loved ones gives them the freedom to be their authentic self, which gives you an authentic connection to them. Some people do get involved in relationships to control another person. A lot of men want a wife that will make him the absolute center of her life, and nothing else! This so often leads to resentment, lying, cheating, and heartache. It's your choice. Your life can resemble a depressing country song, or a beautiful symphony with all its complexities and depth. You can build and share beauty or continue hate's uncanny ability to infect lives. Stop fussing over the idea of anything being natural and start nurturing love in every corner of the world.

Published By: Christopher Alesich
Matchmakers, Inc: Sisterwives.com