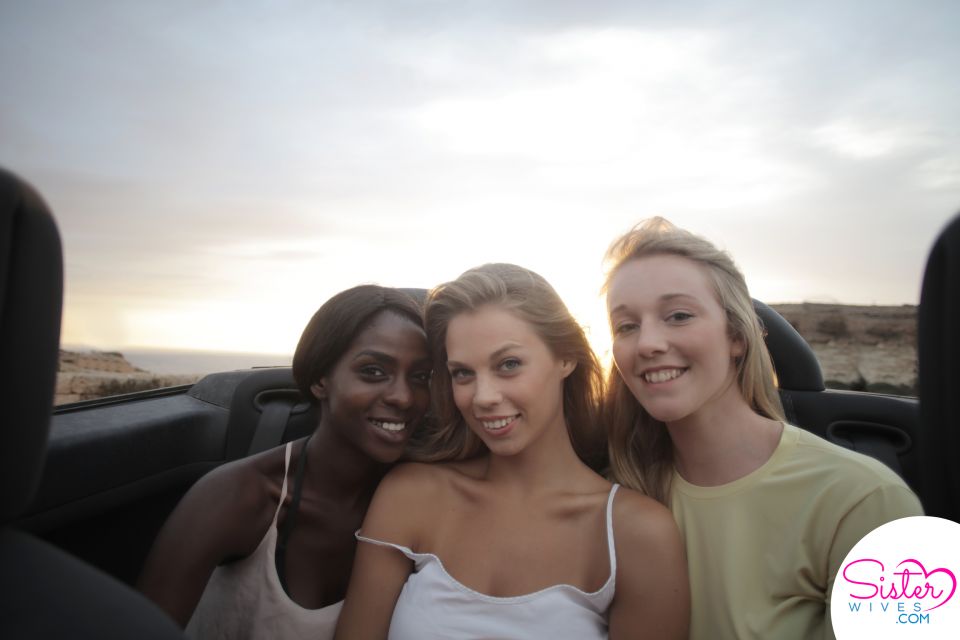 The world feels like it's crumbling all around us these days. Heat waves, pestilence, civil unrest, and political disillusionment has everyone either feeling helpless, or ready to scream at the top of their lungs! Never in recent history have we had to isolate in our homes en masse to avoid a deadly pandemic. We've had our share of civil unrest and terrible politicians over the years, but the current leaders and situation in the US seems to be hopelessly dysfunctional. While it's important not to put our heads in the sand and ignore reality, it's also unhealthy not to take a break from the madness. A road trip is a perfect escape if you and your polyamorous or polygamous family are fortunate enough to have the time and money to make one happen. Some basic planning and precautions can keep you all safe without sacrificing any of the fun or intimate moments a road trip so readily provides.
In a time of pandemic safety preparations are imperative. Finding a new sister wife or poly lover isn't impossible, but spending more time with current partners is usually a better idea. There are always safety measures needed for poly people to keep each other safe, but be sure to implement enhanced precautions according to guidelines set by the CDC and other health organizations. Currently, social distancing and masks are effective in slowing the spread of Covid-19. If 14 day quarantine periods or other precautions are doable it may be reasonable to even include a new partner for your poly road trip. Assess the risk wisely and be prepared.
Once who is safe to come along is determined it's time to plan the destination and route. Normally you might look for cities or regions where polyamory or polygamy are common so you can connect with like-minded people, but current circumstances are not normal. Seeking a polygamous family to spend a weekend learning from would only put you both in danger. It's better to avoid visiting people, stay away from dense population centers, be mindful of 'hot zones,' avoid enclosed public spaces as much as possible, and stay away from crowds. Plan your route according to whatever restrictions might be in place in each region. If you live in Florida it's best to not drive to New York this summer because a mandatory 14 day quarantine will really put a damper on a fun vacation. You might even designate one person to get out to refill gas and buy road snacks at each stop along the way to reduce exposure risks. Looking for stops that aren't crowded in the first place is even better. Destinations that are a bit remote are also a good idea this summer. Maybe consider doing that long trail hike you've been considering for years. Anything to keep the number of people you'll encounter lower, and increase time spent outdoors, will help.
Consider accommodations with safety in mind. You don't spend so much time and energy looking for poly relationships just to end up sick from poor accommodation choices! There is some uncertainty about the safety of recycled air. Enough of the coronavirus may be able to pass through the filtering to get people sick, especially with prolonged exposure.
It's recommended to bring your own bed linens and only stay in rooms with a dedicated air conditioning system. Open all doors and windows to the unit with the air conditioner left on for about 20 minutes in order to clear any lingering virus before staying in the room for any extended period of time. The less busy a hotel or motel is the better. In fact, campgrounds are likely the best option, especially if you have an RV.
Any option that offers minimal social contact is preferred. Don't even think about vacationing in a hot zone right now.
All of this talk about a pandemic seems like it should be enough, but it's not. Welcome to the year 2020, which is being endearingly referred to as the year of the dumpster fire. Seeking sister wives, poly lovers, polygamous or poly families is such a beautiful life that the realities we face in today's world seem impossible, but alas, we're amidst a crisis. Civil unrest is an unavoidable result of injustice and progress.
It's very likely that your poly family is directly affected by injustice itself. People of color, however, bear the brunt of injustice in too many parts of the world today. It's not impossible to show your support while still being able to get away to recharge and unwind. Pay attention to current events in cities and regions along your route in order to avoid interfering with important movements and possibly putting yourself, or others, in danger. If you do encounter protesters remember that cooler heads prevail. There is no reason not to show your support.
Most of the time you'll find demonstrators to be peaceful and willing to lend a helping hand. Don't get wrapped up in media hype or frustration.
Be a part of the solution.
Polyamorous people are full of love, which is exactly what the world needs more of today. Unfortunately, much of that love has to be from a distance, but that doesn't mean it isn't there. While poly and polygamy dating are a bit more complicated right now, poly people can use this time to strengthen their existing relationships by being present for each other even more than usual. Finding safe ways to get away and build stronger connections to each other can help prepare us for a better world in the near future. We will learn and grow from everything happening this year so far. We'll look back on 2020 as a very difficult and scary time, but not every memory has to be a bad one. Get out and make some good memories while you can!

Published By: Christopher Alesich
Matchmakers, Inc: Sisterwives.com