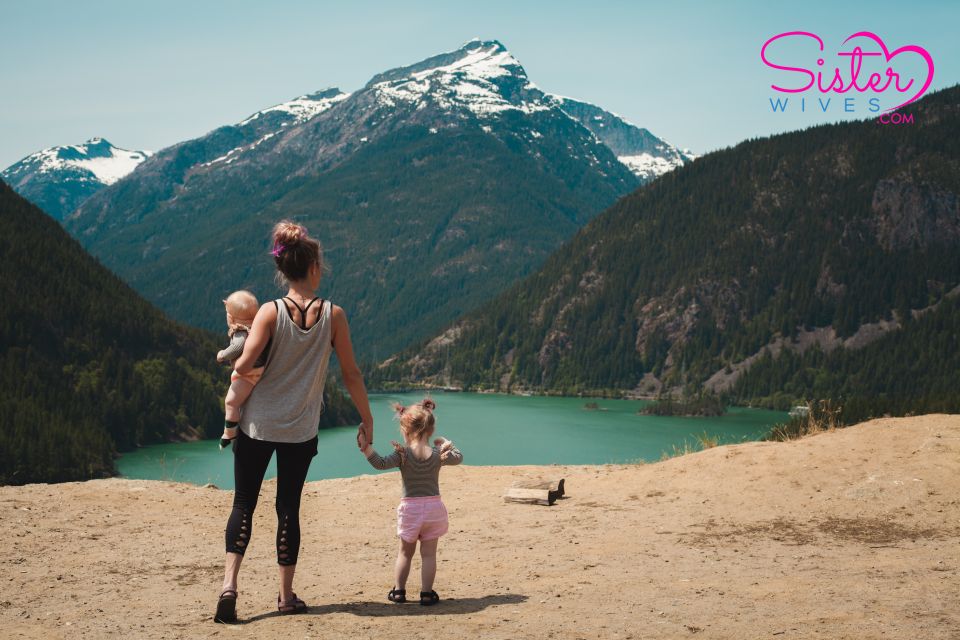 Mother's Day is a tricky holiday to celebrate indeed. More than likely, there are multiple women in your life you want to honor on this special day--two mother figures (your own mother and your partner's mother) plus any sister wife in the family. Additionally, if you have daughters who are old enough to be mothers themselves, they need to be included in the equation, too. So how does it work in a poly relationship? When is it acceptable to introduce a potential sister wife to your children and celebrate holidays together? Who do you invite to the festivities? Let's take a look at common questions regarding Mother's Day in poly households.
How to spend Mother's Day with sister wives


If you're a man in a plural marriage, you might need to strategize. When in doubt, a big celebration with everyone included removes the risk of a sister wife feeling neglected. If time and resources permit, this holiday is also the perfect opportunity for quality one-on-one time with each sister wife. This precious day can help you establish some annual traditions like going out for dinner at a specific restaurant or visiting a place that means a lot to your relationship.
If you're a sister wife and want to show how much you appreciate the other mamas in your relationship, even just a card, a bouquet of flowers, and a heartfelt speech can strengthen any bond. Likewise, a small act of love like preparing the day's breakfast or offering to take their child (or children) for a few hours to free up time in their schedule can mean the world.
For established poly marriages with sister wives who have multiple children that have grown up together, this might not be a problem at all. You might already have a system in place where the host family rotates each year. Of course, not all poly relationships include children, and consequently, motherhood. Perhaps your dilemma is figuring out whose mother-in-law's house you'll visit for the day. In any case, clear communication and reasonable dialogue about expectations surrounding this holiday should not be avoided.
What's the best gift for a sister wife with kids


We've all been there. We've struggled to pick out the right gift for a birthday or special occasion, and eventually settled for something generic. While generic works well for casual relationships like with coworkers or neighbors, it might spell disaster as a Mother's Day offering.
Keep in mind that while being a mother can be a big part of a sister wife's identity, that's not their whole identity. Mothers in monogamous relationships also have other interests outside of caretaking, whether it's a photography hobby, an annual international trip, or a reading club. Paying attention to a sister wife's interests outside of family (whether you're a partner or a fellow sister wife) and acknowledging it on big days like this only fosters a more loving relationship. My advice is to take note of their current likes and dislikes even before Mother's Day, and pick out something with thought instead of opting for a gift they might end up returning to the store. While gift cards usually scream, "I didn't know what to get you, so here's $100 in credit," it might actually work in your favor if the gift card is to a store or place a sister wife frequents.
When do we introduce someone to children at home?


Poly dating or not, this question baffles the best of us. Most love seekers follow the general rule of thumb of waiting three to six months before introducing someone to the family. This number might change depending on your children's ages and therefore whether or not they have an understanding of your family dynamics. Moreover, you might introduce someone you (or you and your partner) are dating to friends before introducing them to your family. Why? Typically, meeting friends is less complicated and less stressful.
In terms of when to invite dating partners to big events at home, it depends. If your children have a close relationship with a sister wife (or unofficial sister wife) and see her as a mother figure, including her in Mother's Day celebrations is natural. However, feelings are never clear cut, and your first wife (or the childrens' mother) might not agree with sharing the title of Mom. Again, the key here is communication about expectations, but this time, you can extend the conversation to boundaries and family roles.
Other holidays with sister wives and poly families


The bottom line with poly families and holidays is that figuring out logistics might always be more effort than a nuclear family's simple plans. This is especially true if sister wives and their children live in different households, or if the children have their own families, too.
The key to determining the best gift, venue, food, and entertainment is a matter of trial and error. You might not be able to control everything in life, but you can count on family members who would do anything to ensure your well-being, holiday or not. Together, you'll figure out a system that works for everyone.

Published By: Christopher Alesich
Matchmakers Inc: Sisterwives.com