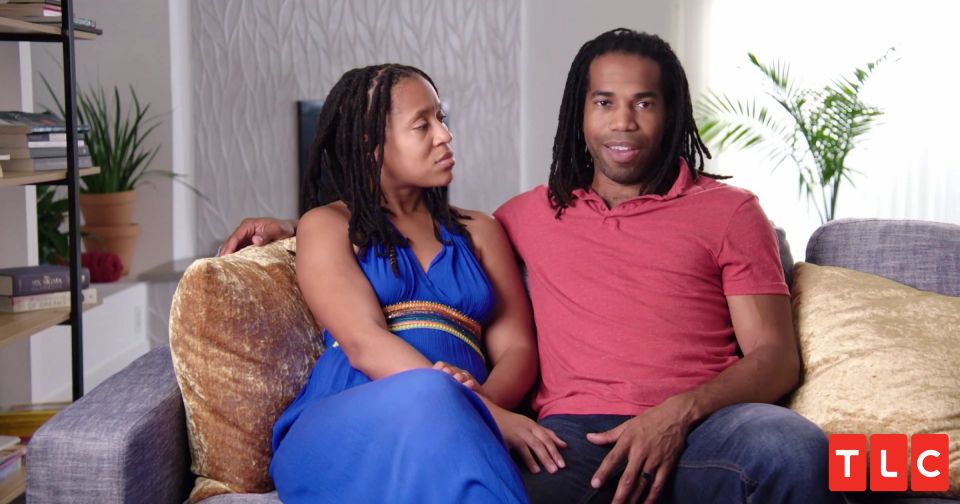 Seeking Sister Wife viewers are used to watching drama between poly families on the show, particularly from Dimitri and Ashley Snowden. Their rocky relationship with potential sister wives - including Christeline Peterson, who accused them both of abuse - and with each other is a big plot point each season. While every cast member struggles in their own way with the polygamous lifestyle, the Snowdens have faced more difficulties than most, with a record of failed marriages, allegations of abuse, and restraining orders.
Ashley Snowden's Instagram Posts


Not long after allegations came out against the Snowdens, fans began speculating on the status of the remaining two members of the family, Dimitri and Ashley, after Ashley posted a cryptic post on Instagram. The caption for the post was centered around emotional maturity and appeared to be Ashley's way of separating herself from Dimitri and the stories regarding his previous relationships. "Sometimes emotional maturity is apologizing when you were wrong…and sometimes it's knowing what isn't yours to apologize for," Ashley wrote in the post. "Being emotionally mature is taking heed to red flags, giving yourself grace for past mistakes you've learned from, knowing your boundaries and upholding them, knowing when something is good for you and when it's not, not giving life to every negative thought that pops into your head or being consumed by the past or thoughts of the future, and finally, looking in the mirror and knowing your worth, even if those around you don't." She concluded the post by saying, "Emotional maturity isn't martyrdom. It's learning thyself, and then applying the knowledge despite what others think they know about you. And, it's also knowing that letting go may be painful, but perhaps the best thing that can happen for you."
The Instagram post, published on June 27, left many fans speculating because it seemed like Ashley was saying she was done with her marriage without actually saying that. This week, those fan theories were validated as Ashley posted again less than three weeks after her original post. In this one, she does say the words "I'm single" in the opening line of the post. She also said she is choosing to share her truth publicly because "misinformation is harmful." She goes on to share tips that "may make this world a kinder place for everyone, especially people who are experiencing trauma." Her tips are essentially advising people to reach out to people they're concerned about in private and "if you can't approach them privately, 9x out of 10, it's none of your business." Sometimes it's hard to remember we may feel like we know reality stars, but they don't know us. Even though sharing their lives publicly is what they "signed up" for, that's really only true to a certain extent. At the end of the day, cameras aren't rolling right now, and regardless, people do deserve to still be in control of their lives.
Dimitri Wiped His Instagram Clean


Toward the end of Ashley's post she says, "It's cool if you don't like me, that's life. However, there's power in redirecting energy to things you do like. Unfollowing is an undervalued tool for a peaceful life. Blocking or restricting accounts are dope features, too." Her now ex-husband, Dimitri, seems to have taken this advice and has since deleted all the photos from his Instagram. This is not the first time Dimitri has gone quiet on social media - most recently before this, he placed his accounts on private when news broke about the situation with Christeline - but it is the first time he's actually wiped his account clean. Not just the photos with Ashley, but all of them, including ones with his children. While Dimitri has not specified why he deleted all of his Instagram postings, there are already numerous fan theories circulating. The timing of it indicates that he may be attempting to remove Ashley and their life together from his memories. While Dimitri has had at least five wives and Ashley is not his first, she has been with him the longest, and her decision to leave may be more difficult for him to accept than any of his other marriages.
Our Thoughts


Despite having five sister wives between 2003 and 2019, Dimitri clearly does not appear to be a polygamous relationship expert. Even though you're able to delete images from social media, you cannot delete the actual memories with the person. This is especially so for Ashley and Dimitri as they have three children, so their lives will never be fully disconnected. Dimitri's 140,000 Instagram followers are ready to learn what happens next for this unconventional former couple, but it's looking like they're going to have to wait until the next season of Seeking Sister Wife.
We think that Dimitri's reaction kind of shows that his method for dealing with these things is to not deal with them. Breakups, especially poly breakups, can be a lot to digest. However, if you don't truly process them and learn from them, you shouldn't be surprised if it keeps happening. It's all too easy to place the blame on the person who's not there anymore, but even if the majority of the blame does rest on their shoulders, it's pretty rare for only one person to be completely responsible. Maybe you ignored red flags or swept their seemingly petty grievances under the rug. Whatever it is, really try to understand their perspective and identify how you can avoid those missteps in the future. The goal of this isn't to beat yourself up or rub salt in a wound, but to adapt and grow into the best polygamous spouse you can be.
Season 3 of Seeking Sister Wife just recently ended and many fans have already been asking for Season 4. However, as of now, TLC has neither confirmed nor denied if the show has been renewed for another season. Plus, a tell-all for season 3 has not been filmed, and considering the state of the Snowdens, fans can't help but speculate if they will film the special. Hopefully, the show will figure out a way to move forward with the other families. Be sure to check back here for more updates on all things Seeking Sister Wife, Sister Wives, and polygamy dating/marriage!

Published By: Christopher Alesich
Matchmakers Inc: Sisterwives.com