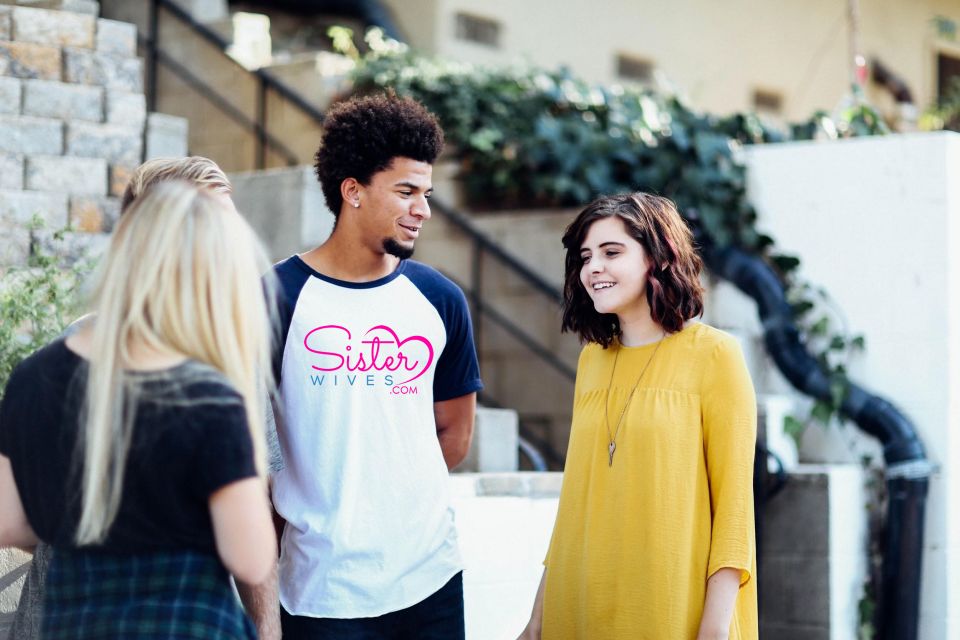 You may have recently realized you're polygamous or polyamorous, or are a poly person who recently met a new potential partner. However, while it's important to live an authentic life, it's unfair to assume your partner or spouse - or potential partner or spouse - is automatically okay with a non-monogamous relationship. To help you all navigate, the Sister Wives team has compiled a few ways to ensure all partners are onboard with a poly relationship.
Educate them
If your partner or potential partner are new to the poly lifestyle, it's important to educate them. There are two overarching areas of poly: Polygamy and polyamory. Which do you identify with? It's also okay if you don't want to label it. Education on poly lifestyles is important, and you can learn a lot by reading the articles section of the Sister Wives dating website. The most important thing, though, is that you explain what it means to you.
What we mean by that is, explain why you feel drawn to polygamy or polyamory. That answer, while it will sound different for everyone, probably won't be "because my current partner isn't enough", and that is what most monogamous people are afraid of. They feel that by opening your relationship to another partner, you're saying they aren't enough for you. This clearly isn't the case, so just be sure you're compassionate when communicating with them about being (or becoming) poly.
Address the sigma around polygamy and polyamory
People are becoming more and more accepting of poly lifestyles every day. Unfortunately, that does not mean the bias and stigma poly people face has vanished. Polyamorous, polygamist or otherwise multi-person marriages are illegal all over the US and in many other countries. Recently, there have been a few steps in the right direction, such as Utah's decriminalization of polygamy last year. Even more recently, Cambridge, Massachusetts, announced in March 2021 that it will legalize domestic partnerships between three or more people.
Understand the history
While there is progress, it's happening at a slow pace. For polygamy marriages, this is partially because of its association with religious groups such as Mormons and Muslims, and many feel the US should operate under Christianity. Some religion-based polygamists have pressured women into opening their marriage to sister wives.
While this is not and should never be something included in polygamy, it's important to acknowledge it has happened to people in the past, and is currently happening to some people - mostly women - in other countries that practice polygamy. Modern polygamists have to understand where this bias comes from, because it shows how important consent is. This is a huge thing you should be prepared to discuss with your partner. If they aren't on board with polygamy, you have to accept that. Even if that means you have to part ways.
Another reason poly marriages struggle with gaining legality: Taxes. There is an argument that multi-spouse marriages would give those households unfair advantages when it comes to paying taxes. Unfortunately, it is much easier for lawmakers to ignore the poly community rather than reform the current tax system in place.
Unpacking biases
Obviously, polygamous and polyamorous people don't want to get married to cheat the tax system. While it would probably make filing easier, they want to get married because they have the right to be who they are. That, and the fact that partners who aren't legally married don't get the benefits that monogamous spouses have. For example, insurance companies and hospitals don't have to recognize the marriage.
Plus, not many people know or understand why poly marriages are illegal, they just know that it is. Sadly, most people also don't research things like this until it impacts them directly. So, there's a decent amount of people who look down on something they don't really know anything about simply for the fact it's not what they deem ethical.
Give them time
As we said at the beginning of the article, you can't expect a partner or potential partner to jump on board right away. They may not be on board until months later, if at all. This is a lot of information to take in, after all.
If they express interest but want to learn more, then great! Use the section above to help you lead some honest and real conversations with them about why they're hesitant. Don't pressure them to give you a response by a certain deadline.
What if my partner freaks out upon me telling them?
Know that any big reactions stem from a place of hurt and/or fear. You have to be patient and show them you understand where they're coming from. Be sure to spend some time preparing for the conversation both mentally and emotionally. Mentally, because you want to be prepared to answer their questions and explain to the best of your ability. Emotionally, because you may not get the response you want to hear.
It is possible that you could lose a monogamous partner or spouse by telling them you're poly. As hard as that would be, you deserve to live authentically. And so do they. If you can't bring yourself to be monogamous and they can't become poly, you will both have to move on. Because it isn't fair to either of you to pressure the other into being something you're not. It's also unfair to keep something from a partner, so always be honest about who you are.
Utilize Sister Wives as a Resource
Whether you go into the poly dating world with a partner or alone, the Sister Wives dating website is here to help you along your journey. We've already mentioned our articles, but that's not all we have to offer our members. You can learn more about other people's stories by checking out our member blogs . Whatever step of your journey you're on, know that you're not alone.

Published By: Sister Wives
Matchmakers Inc: Sisterwives.com