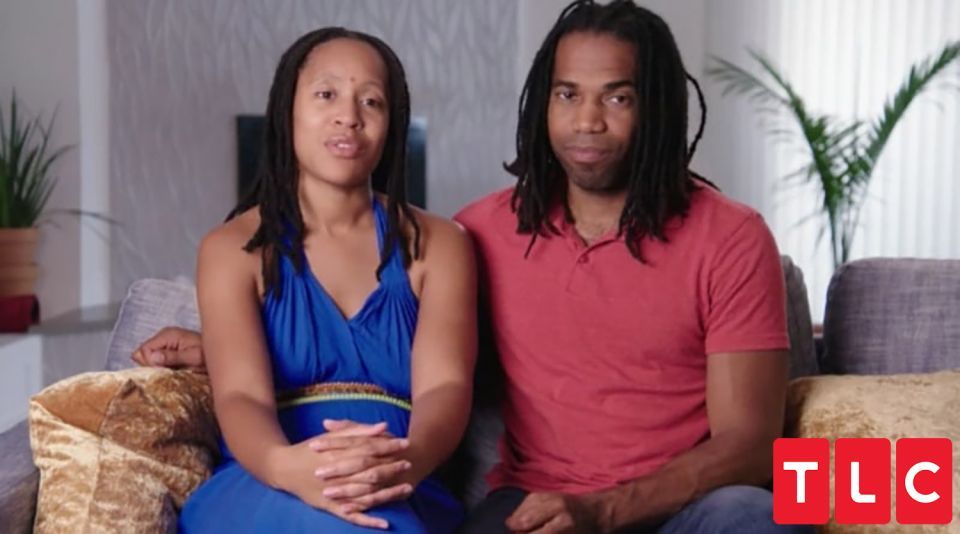 Seeking Sister Wife Update
Dimitri Snowden, of TLC's Seeking Sister Wife, has filed for divorce from wife Christeline Peterson. Although filing didn't occur until this month (May 2021), their date of separation is listed as January 21 of this year, citing "irreconcilable differences" as the reason for the divorce.
Dimitri also requested that the court not grant Christeline spousal support, noting that there are no assets or debts to be divided. He also stated in the document that she "has abandoned the marriage" and that he "does not know her whereabouts."
Seeking Sister Wife fans know the Snowdens have spent the last 10 years or so searching for a third wife to add to their family. We've seen their journey over the course of 3 seasons now: The season 1 courting which ended with Dimitri getting intimate too soon in the relationship, the season 2 courting and marriage to Vanessa Cobbs (and subsequent break up via text), and the season 3 courting of both Christeline and Tayler Monique.
After a few months of long-distance dating and a successful first visit, the South African native Christeline and her two children moved to California to be with the Snowdens (and Tayler) shortly before the COVID-19 travel ban. Not long after Tayler's exit from the show, Christeline and Dimitri were legally wed in July of last year. The storyline is still unfolding on our TVs as season 3 episodes air.
Abuse Allegations


The divorce filing comes after allegations of abuse against both Dimitri and Ashley, for which Christeline attempted to get a restraining order against them both. She claims that Dimitri was physically and verbally abusive, including when the two were sexually intimate. The allegations towards Ashley were that she was aggressive and verbally abusive as well. According to documents Christeline filed to get the restraining order back in January, she claimed Dimitri woke her up by "slamming [her] head into the headboard of the bed and he was yelling at [her]." She said she filed a police report as well and was issued a temporary restraining order. However, she was unable to secure one against Ashley due to a lack of information provided to the court. In April, the temporary restraining order and case were dissolved when Dimitri appeared in court.
Additionally, a woman who was involved with the Snowden's before Seeking Sister Wife began named Ariadne Joseph has made allegations similar to Christeline's. After news broke about the allegations against the Snowden's, we saw Tayler send love to Christeline via Instagram (notably, before it was revealed on the show that Tayler had left the Snowdens) while Vanessa from season 2 shared support for domestic abuse victims. It should be noted that all of the women beside Ariadne - who created a GoFundMe to support Christeline and her two children during this time - apparently signed NDAs.
Ashley's Miscarriage


On Mother's Day, Ashley shared via Instagram that she had suffered a miscarriage. This news broke a few days before Dimitri officially filed for divorce from Christeline. In her post, Ashley wrote:
"To the Mothers, all the mothers, and especially the mothers who have known great loss. To those who wanted to be mothers, but never got the chance due to physical issues or forlorn relating. To the mothers who miscarried or experienced stillbirth. To the mothers who have experienced the death of their once living children. To the mothers who were "done mothering" only to be tasked with mothering another's children. To the mothers who's children were taken in custody battles. To the mothers of kidnapped children. To the mothers of children they gave up in adoption. To the mothers who may have incarcerated children. To the mother's incarcerated. To the mothers who have children who don't want to have a relationship with them. To the mothers who can't bring themselves to face their children. To all the mothers and and their children lost during the pandemic. TO ALL THE MOTHERS.
.
Motherhood is a beautiful initiation. But it can be one of the most painful to endure. This Mother's Day, I honor every aspect of motherhood. I've known great loss in my life, but losing a child under any circumstance certainly impacts the subtle body on multiple levels. I've recently had to sit in the pain of miscarriage, so I offer this message today: Be kind always, and especially, because you never know a mother's story. Be slow to judge and quick to love, because many mothers are carrying not only their own pain, but the pain of every mother down their lineage. Until we can heal that pain, until that pain can be transmuted, reflect back love to every potential mother's path you may cross. Reflect love.
.
Happy Mother's Day to ALL THE MOTHERS."
There's not much else reported on her miscarriage at this time, but we send love and healing to her and anyone else who has experienced this loss.
Our Thoughts


We are deeply troubled and saddened regarding the abuse allegations against the Snowdens. While we may not know for sure what happened, and may never know, it's always important to us to discuss and denounce allegations of abuse in the Polygamist community. We hope to gain more insight one way or the other from the Snowdens or from Seeking Sister Wife. We know that a petition to have the Snowden's removed from the show was created, but it only has 100 signatures as of May 23.
We know how much watching the real journeys of poly families who are searching for a Sister Wife helps people like us and our members as we are on a similar path, but it's important to remember these are real people. When situations like this arise, it can be tempting to speculate on what really happened, but we have to remember how serious of a situation it is and the real lives impacted by it. Additionally, we should also remember to never idolize people just because we enjoy watching them on TV. This also serves as a reminder of how crucial it is to take the time to choose the right poly partners for you. There's never any reason to rush into anything, and you want to be sure everyone involved has enough time to healthily adjust to the process of finding and adding a Sister Wife to your family. You also want to be sure you really know who is joining your family, and they should be sure they really know you.
Seeking Sister Wives airs Mondays at 9 p.m. ET on TLC.
At Sister Wives, our poly matchmaking service is committed to finding love for each and every one of our members. Be sure to check out our services and resources that serve as a guide to help you discover the best polygamy dating app for you.

Published By: Christopher Alesich
Matchmakers Inc: Sisterwives.com