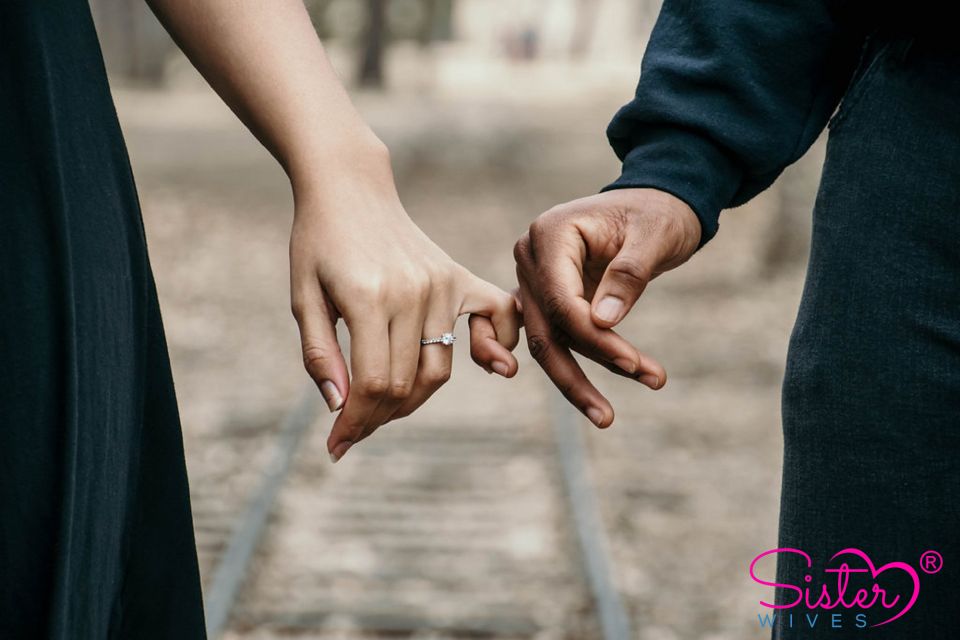 In some relationships, a liberating new chapter can be that of ENM, or ethical non-monogamy. You may hear this type of relationship referred to as a "poly marriage". Depending on the relationship you're talking about – either polyamorous or polygamous – its accuracy is questionable. The use of the term does, however, help people understand the relationship on some level.
The important thing to keep in mind here is this: A traditional "marriage" will not apply to a polyamorous relationship – at least not legally – at least not at present. It involves multiple partners, all of whom are dedicated, willing, and loving toward each other.
If, on the other hand, a man is "married" to more than one wife at a time, this is a polygamous relationship and women in the relationship are frequently referred to as "sister wives". You've probably seen something on TV related to this way of life.
For the time being, however, let's explore how to begin a discussion with your current mate regarding poly marriage or an ethical non-monogamy relationship in general.
Entering into Poly Marriage
Before even talking to your partner about a poly marriage, make sure that significant and adequate self-reflection has been done. You don't want to talk to your partner about this unless you are absolutely sure, deep within yourself, that this is a move you want to make.
Opening the Discussion
Into your existing relationship, intimacy and trust can be introduced on new levels as you explore new aspects of yourselves and others. It's important to have compassionate, safe, and productive conversations about this choice.
Make sure your expectations are realistic.
The first conversation should reassure your partner that you care about the relationship and make clear your intentions. You'll need to figure out, together, what's best for the two of you. Make sure you're on the same page and aware of exactly what this kind of relationship will mean.
Timing And Location Is Everything
This isn't the kind of conversation you're going to have a crowded restaurant or at a party. This is something the two of you need to sit down and discuss. The more private and intimate the setting, the better. This is your business, at least for the time being, and no one else's.
This is going to be an emotional discussion so make sure both of you is up for it on all levels (mentally, physically, etc.).
Detail What You're Hoping For
This is the time when your intentions are outlined and your hopes for the conversation are explained. You're simply proposing the subject here; your partner doesn't have to agree or disagree immediately. Be clear about what you're trying to accomplish with this conversation and what you expect from the changes in the relationship.
Listen
Remember, this is a conversation, so it goes two ways. Don't do all the talking. Make sure you listen intently to whatever your partner has to say.
Needs
Be sure to differentiate between individual needs and the needs of the relationship. Rather than working against each other, work together. Work toward understanding each other's perspectives and needs, and then, with what's appropriate for the relationship in mind, work toward the best decision.
Assistance
You can offer your partner assistance by supplying them with the resources they need to better understand this new way of life. What's more, be sure to give them plenty of time to go over this in their mind and in their heart. Reassure them, that to this relationship – between the two of you – you are still highly committed.
Sister Wives Dating and Matchmaking Service Can Help You Explore Poly Marriage
Not sure about the polygamous lifestyle? Find out what others have to say on our "Blogs".
Sister Wives receives positive clients reviews consistently. Why not become better acquainted with Sister Wives and our lifestyle by attending one of our activities and events?
On our website, you will find a vast selection of options and extras. Contact us today to find out more. We have a convenient online form that you can send in. You can follow us on social networks like Facebook, Instagram, and Twitter.

Published By: Sister Wives
Matchmakers Inc