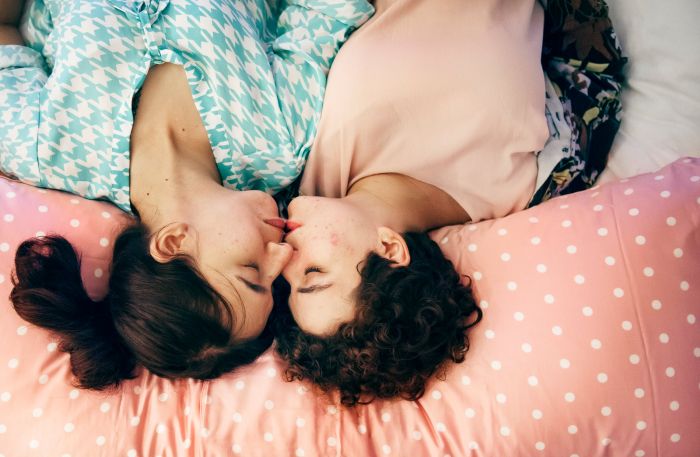 Psychologists have recently had a lot to say about polyamory. Some are claiming it has no specific benefits beyond those of a monogamous relationship, some say there are some benefits, and others even claim it's a sign of mental illness (it's not). Claiming polyamory is a result of mental illness clearly comes from people with ulterior motives and lackluster educations, but it's also silly to discount the real benefits people in both the polyamory and polygamy world enjoy. All relationships come with their ups and downs. Monogamous relationships make the down times more difficult because a person can feel extremely limited or defenseless when it's them alone against their partner. Involving more people in your intimate life opens doors for more self expression, greater honesty, and a deeper understanding of yourself and everyone involved. These massive benefits should not be ignored.
Polygamist families are a perfect example to show the mental health benefits of a plural relationship. Sister wives may all love their husband very much, but at times will feel like they can't even look at his face. It's natural for lovers to have moments where they disgust each other. When a woman becomes a sister wife she is joining a family that provides not only a husband to love and adore, but sister wives to vent her frustrations with when he's pushing her buttons. If there are major issues that need to be addressed with the husband a sister wife doesn't have to feel alone in her approach. Too many issues are left lingering in monogamous situations because everyone is simply trying to not rock the boat. Talking to someone about a problem you have with them is not so easy when you have to do it alone.
This flows right into another benefit. Less time feeling lonely. When a polygamous man finds a new sister wife he is introducing her into his already active family. She can choose to work or help take care of the home without fear of long days spent alone if she chooses the latter. She has multiple companions to enjoy. A sister wife can focus on how she can best contribute to her family and have plenty of time for personal development as well. She doesn't have to be the sole source of care and affection for a man.
Speaking of 'sole source' opens a whole new range of benefits from a polyamorous life. Anytime a person feels the pressure of being another persons' 'everything' it creates an enormous amount of pressure. In trying to be everything for a person it's very easy to lose yourself and end up not having much to offer them at all. At least not in a genuine and healthy way. People fall in love because they love a unique individual. Evolving for each other is inevitable but when you involve more than one person in your love life everyone can actually evolve to be closer while staying more true to themselves as well. Knowing yourself well, and being yourself, makes you a better lover, and a better person overall.
All of these things that help make people better and more honest lead to mental well-being and happier lives. Your life expectancy will increase, your physical health with benefit, your ability to produce more good in the world will strengthen, and even your financial situation can benefit from the positivity inside you. A well tended polyamorous relationship can make your life exponentially better over time. The boost in mental health has no limits.
Naysayers will always be around. Avoiding them is impossible. A refreshing lack of concern about their judgments, and the positive light you can shine into their darkness, is yet another benefit of a poly life. There is strength in numbers. The confidence you'll find when you have a big happy home full of love goes beyond valuable. Life is tough. Having a big team that loves you unconditionally, and with whom you can share deep compassion, will make the harder times in life melt away. I can't imagine something more inspiring than having a few sister wives that will fight as hard for you as you'd fight for yourself. Add a loving husband on top of that and you're unstoppable. Any psychologist claiming polyamorous or polygamous families are a result of mental illness, or are of no mental health benefit to anyone, can safely be dismissed from your reality.
If you are not currently involved in polyamorous or polygamy dating because you've been on the fence about it, consider giving it a try. Looking into becoming a sister wife doesn't mean you have to become one. Chatting with potential poly dates or groups online doesn't commit you to anything. One thing experts certainly have correct is that neither monogamy, nor polyamory, are right for everyone. Part of developing yourself is the willingness to explore and find what's right for you. If you're reading this article, chances are you have an interest in polygamy, or at least polyamory. The very real mental health benefits are practically guaranteed for people that are truly built to handle the ups and downs of plural relationships. Don't dive in too quickly believing polyamory is good for everyone. Forcing yourself into situations that don't really suit you can have a horrible effect on your overall well-being. Take your time, explore, stay in touch with yourself, and don't be afraid to tell your potential lovers exactly what you're looking for. Healthy relationships, plural or not, start with people in generally good mental health. The added mental health benefits come from the love and support you provide each other as you build your lives together. All love is good love. Go find the life and love that's right for you.

Published By: Christopher Alesich
Matchmakers, Inc: Sisterwives.com