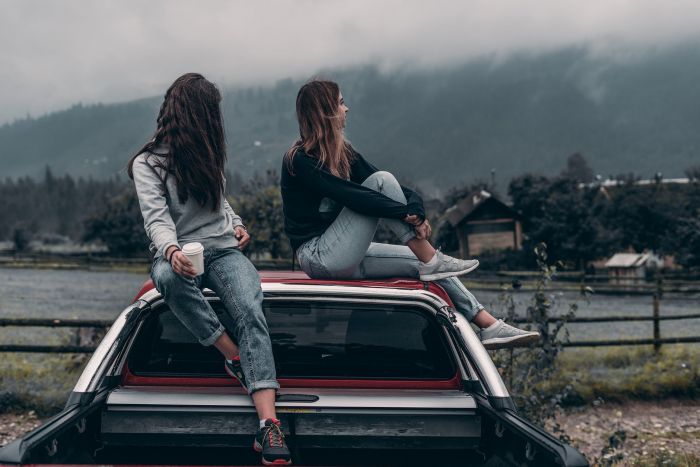 So, you've done it. You and your partner found 'the one' that is going to start your journey into a fully polyamorous life. You've searched high and low, and probably for years, so you want to get everything just right. You've dated potential poly partners before, but this time it's different. As feelings develop and intimacy becomes deeper you have to be prepared for the inevitable discomfort that comes with allowing another person's energy to intertwine with something you've grown comfortable with over time. It can feel invasive, impossible, or even immoral for some. Second guessing ourselves is a talent most humans have perfected. Not only do you have to be there more for each other to get over the poly virgin hump, you also have to be there more for yourself. Don't leave questions or concerns unexplored. Here are more things to expect and consider.
In love, nobody is a newbie. There will be a strong tendency to treat a new partner joining your relationship like they're the new kid on the block. As though there are certain ways things are going to be and it's your duty to teach them. Remember, you're not adopting a pet for you and your partner to enjoy, you're welcoming a whole new dimension and energy into your relationship. Your existing relationship has to become a whole new thing that includes the persuasions of everyone involved. There are plenty of things that might not change much at all, but putting up resistance to change will only block the natural evolution love needs to grow. Your relationship pronouns are 'we, us, ours'. Too much 'me and mine' will drive a wedge between you and your partners. Focusing on what's best for your poly family will ultimately lead to the best things for you.
Love is sacrifice. A difficult part of welcoming a new person into your relationship is learning how to let go. This is not the type of letting go you'd experience by getting over a break up. This letting go is an incomplete version of the same thing. You're not saying goodbye to your lover or learning to love them any less. However, in order to make room for someone new you both have to let each other go, just a little. This goes back to the 'me and mine' attitude that can cause harm. Focusing on 'my' boyfriend, girlfriend, wife, or husband makes it impossible for your new love to truly become a significant life partner. It's the same if you've found a new sister wife. If any existing wives treat the new sister wife like an outsider she may never be able to make her way in. A good polygamous family will make sure everyone feels welcome, and you cannot be polyamorous if you're incapable of viewing each lover as an equal.
Figure out the rules and standards your polygamous or polyamorous family needs to follow early with each new addition. Keep in mind, this is not about imposing existing standards on your new lover, rather it's about a discussion to find some middle ground that works for everyone. Many people will find they have very similar ideas in this matter once an open conversation can get going. Never give too much in areas you simply cannot bend, but strive to not be stubborn either. This is about forming a relationship that makes everyone happy, not a situation that will cause stress and anxiety. People that love each other shouldn't seek ways to limit their partners so be aware of where your ideas are stemming from. That place should always be love, respect, and support.
Expect tension and embrace it. It's more alarming if the addition of a new lover to your family doesn't bring tension. The best things in life don't happen easily, polyamorous relationships are no exception. Centuries of social conditioning are going to result in feelings of jealousy and questions about morality. Feelings that seem to be happening naturally are often a result of arbitrary expectations society is all too happy to impose on everyone. Developing the ability to boldly follow your own path in life and relationships can take years. Many people simply give up and pretend they're happy living a mediocre life that keeps everyone around them comfortable. It takes grit and determination to be different but if you can do it you won't regret it. Letting in your first poly lover will require a ton of understanding, forgiveness, and knowing how to choose your battles. It's not going to be easy, but that's okay. It's worth the struggle. When you come out on the other side you'll be a bigger and better family.
Use sex to connect. There is no better way to build a deep connection. Take advantage of the New Relationship Energy while it lasts and do it as often as you can handle it. Allow your partners' to make love to each other all they want, if your agreed upon rules allow it, and make sure you get involved often as well. Make sure you're keeping up with each of them as much as you can. The sex will become less frequent (most likely) over time but the deep connections you're building will develop into other ways to connect. Sex also has an incredible ability to ease stress and tension while your new poly relationship is finding its' footing. Stay focused on your relationship goals and make so much love to each other that it becomes impossible to fail.
Finding a new sister wife or polyamorous lover is an exciting moment for anyone. It's a moment when a few wrong moves can cause a lot of damage. Finding the balance between respecting and protecting your existing relationship while allowing the space for someone new is going to seem impossible at times. You will be tested and pushed in directions that take you to your limits. Keeping your head while going out of your way to be loving and supportive to your partners is the only way through the storm. Pride has to be swallowed at times and trust has to be given freely, but the results will bring so much joy you won't even remember most of the struggle. Keep your eye on the prize and never forget that it's all about love.

Published By: Christopher Alesich
Matchmakers, Inc: Sisterwives.com