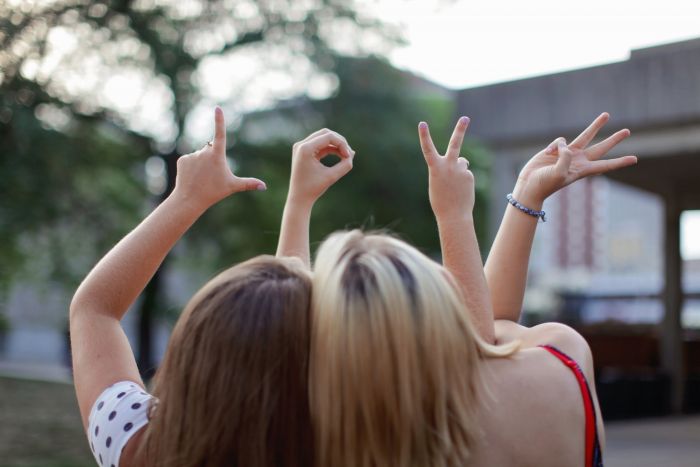 As we grow older and wiser there are tools we develop to make our lives function in better ways than we knew in the past. We become more or less stubborn about different things, and develop better ideas about what we can or cannot tolerate. Trying to share our experience and knowledge with others is sometimes met with resistance because every life lesson is specific to the person involved, but there are overarching concepts that can apply to everyone. Being honest and kind, but not weak, benefits us all. Moderation in all things protects life and happiness. Fostering positivity in yourself and those around you creates a better world. Just as every life is different, so is every relationship. There are no single paths to follow that will guarantee success, but there are some agreements you can make with yourself, and your poly partners, that will guide your relationships along better paths to prolonged love and happiness.
Be honest, but do no harm.
There are plenty of situations in life where pure honesty would be more trouble than it's worth. Errors in judgment happen all the time and there are people out there eagerly awaiting a reason to tear you down. Harmless lies meant to protect yourself, or loved ones, from an unreasonable amount of blowback can be chalked up to a learning experience as long as you're committed to correcting the situation or behavior. While this concept can work in many areas of life, it cannot apply to your intimate relationships. When two or more people decide to build a life together there is an unspoken rule of full disclosure. Without it, it would be impossible to build the level of trust necessary for a fulfilling and enduring life together. Not every single detail of our pasts need to be divulged before committing to someone, but there are certainly details it would be unfair to leave out. Once a commitment is made, the rules change, and you are no longer only living for yourself. If you're unable to share your mistakes, thoughts, ideas, or challenges with your partner in a fully transparent way it's time to reconsider the nature of the relationship.
For polyamorous or polygamous people this same agreement about transparency still applies, but can run into a few interpretations depending on the structure of each relationship involved. A beautiful thing about polyamory and polygamy is their malleable nature. Core relationships, such as between a sister wife and a husband, require a stronger bond than peripheral relationships. For example, when a woman becomes a sister wife she may prefer some level of autonomy from the other sister wives, which is perfectly acceptable. A polyamorous group may enjoy a home and/or sexual life among lovers, but prefer to maintain daily lives in a private and individual manor, which again, can be great as long as everyone involved agrees to it. The key to all of this is honesty. Honesty about your desires, preferences, goals, and more... will guarantee you're at least pursuing a path that actually works for you and your partners. Finding people that will respect and reciprocate your honesty can keep you on your fitting pursuit of personal joy.
Be selfless, but don't lose yourself.
Self sacrifice is a reality for any decent person at some point. In relationships we endure ups and downs with the people we love, and it has to work both ways. Polyamorous and polygamous relationships are no different. Regardless of the nature of your intimate relationships, you shouldn't bail on someone you love because of a rough patch in their life. This can be a tricky balance to find because while you should be there for each partner when needed, you must also know what lines shouldn't be crossed. If you do nothing but sacrifice yourself for a loved one you run the risk of losing yourself. To be fair, there are situations where a loved one is faced with circumstances beyond their control, like major health issues, and losing yourself a bit may be the only option. For the purpose of this article we're referring to issues stemming from repeated bad choices, or lack of action or control. Loving and supporting each other is not about babysitting.
If you're interested in polyamorous or polygamous dating be prepared for the lifestyle to become part of who you are. Any time you're involved in a lifestyle that doesn't fit societal norms it will be a mentionable trait people will use to define you in their minds. This does not count as losing yourself because it's actually a step toward finding who you really are. Embrace it. When you become a sister wife, polygamous husband, or join any form of plural relationship your sense of self will evolve and grow right along with the love in your life.
Let go of control, but don't lose it.
This agreement is tough because a total lack of control is chaos, but too much control can make life a living hell. The basis of this is that you're with the people you love because you love them, not because you want to control them. If you do want to control people you love it's advisable to seek counseling to figure out where that desire comes from. It's not healthy. At the same time, a total lack of control can leave you feeling powerless and therefore hopeless about your love life. People that love each other should agree to abide by some basic standards that support the emotional attachment of everyone involved. Even when rules or standards are tested, the love you share should hold you together and help the relationships evolve. This is where being able to relinquish control becomes necessary. A little dab of forgiveness here and understanding there keeps everyone happier, and away from feeling trapped. Nobody looks for a polyamorous relationship or seeks to be a sister wife because they want to find a trap to fall in. They want to fall in love and grow with that love. Knowing when to put a foot down, or when to let things slide, is not playing a game. It's respecting the inevitable human complexities every person you love will possess.
We all want to be loved. Even if you enjoy being single, or don't need much from others to be happy, you still enjoy being loved. Relationships take work no matter what the nature of your relationships tends to be. Finding balance in these three agreements can make the work far easier because it means committing to reasonable levels of honesty, selflessness, and control. It's easy to say we should always be honest and selfless, but it's better to protect yourself from harm as long as your heart and intentions are in the right place. These two things should come naturally for lovers. Good relationships will also settle into reasonable control mechanisms that won't exhaust or compromise the will of anyone involved. Following your heart and letting your love life fall into place on its own is almost always the best way to a happy relationship. Keep these agreements in mind next time you start to fall in love. Always consider how you like to be treated and base your actions on it. Polyamory offers endless possibilities with love, and the well-being you'll find through balance can make every love interest a positive and life changing juncture.

Published By: Christopher Alesich
Matchmakers, Inc: Sisterwives.com