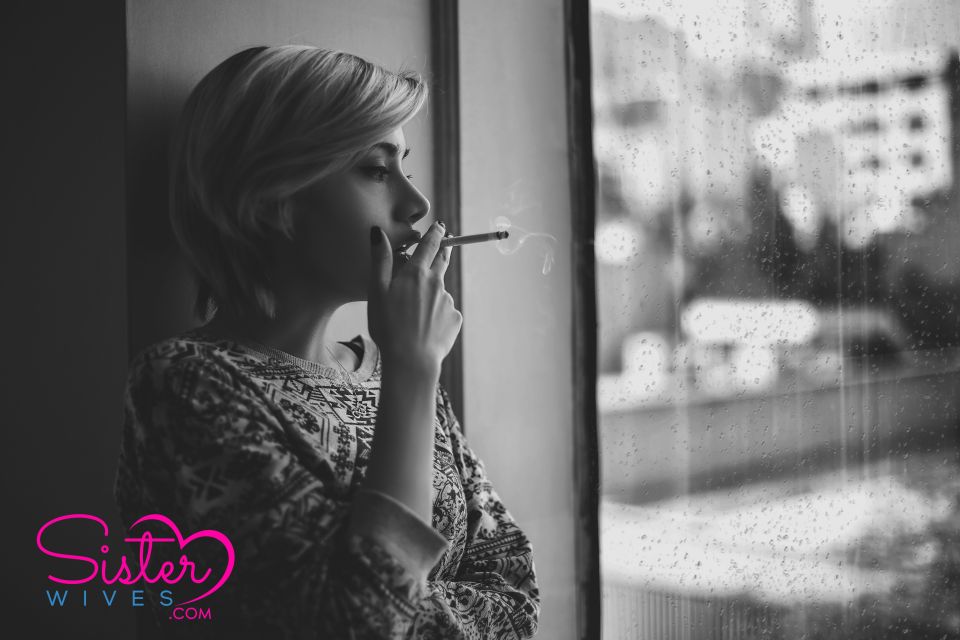 Poly relationships are just as likely to experience problems compared to monogamous ones, but the former creates unique circumstances that allow one or multiple people in the relationship to manipulate others.
To clarify, an abusive relationship is one where the perpetrator intends to harm the other person/people in the relationship. On the other hand, a toxic relationship may be where the perpetrator does not necessarily act with malice, although their behavior is still often harmful. In short, all abusive behavior is toxic, but not vice versa.
Nevertheless, whether it's physical, psychological, or verbal, both abusive and toxic behavior should not be tolerated.
Let's dissect some common toxic behaviors that may crop up in your relationship with a sister wife or husband.
1. They stop you from forming relationships with other people in the polycule


In some cases, toxic behavior is abusive. When a person in the relationship assumes the lead position (or dictator title, really), then it might be a good idea to step back and reassess the situation.
For instance, consider a married man and woman who decide together that they want an open relationship. They bring in another man, and the wife forms an intimate relationship with him immediately. However, she forbids her husband from interacting with this second man at all.
In another example, a married man dates multiple women and brings them home occasionally. His nesting partner wants to be friendly--at the very least--with these women, but he gets angry or downright violent if she attempts to make contact.
In these instances, the toxicity goes beyond inconvenience and is bordering on emotional abuse. Abusers often want to isolate their partners, and in poly relationships, it can be easy for the perpetrator to inflict harm because these types of arrangements are not conventional.
A unique circumstance in a poly relationship is the use of veto power (or the power of someone in the relationship to reject a potential partner). Ideally, it's granted to everyone in the relationship, but toxic people will seize total control.
This imbalance tilts power dynamics in favor of one person, which always ends in hurt feelings--or worse, abusive relationships.
2. They make all the decisions in the relationship/household


Similarly, a toxic person might assume control over other matters in the household, whether it's about children or a financial matter. We're not talking about an arrangement where everyone in the polycule relies on a sole breadmaker or decisionmaker, which is common in polygamous households.
We're talking about relationships where one person does not consult, negotiate, or discuss anything with anyone else. The sole intention is to consolidate power so the other person (or people) remains completely powerless.
When the submissive partners in the relationship have no say, they might spiral into insecurity, dependence, and hopelessness. This stripping of power and autonomy is a telltale sign of a toxic and abusive person.
3. They dismiss your feelings and don't respect your boundaries


Gaslighting gets thrown around lightly, but it is a serious abuse tactic that inflicts psychological or emotional harm. It refers to any behavior that aims to dismiss, manipulate, or misconstrue another person's feelings, memories, or judgment.
At first, gaslighting might seem like something your husband or sister wife does out of frustration or anger. Over time, you might recognize it as a way for them to control you while avoiding problems in your relationship.
It can be something as simple as your partner lying about their whereabouts to your partner blaming you for every issue that comes up. Poly relationships can be confusing to understand and challenging to navigate, especially when it comes to setting boundaries.
However, your partner(s) should always respect these boundaries--this is a sign of a healthy person and a healthy relationship. You should never apologize for your feelings, and you should never feel like you're walking on eggshells every time you want to bring up something to your partner(s).
4. They justify their actions through jealousy


This point might fall under the previous one, but we've created a whole section for it because jealousy is such an innate part of poly relationships. Everyone (or almost everyone) will feel jealous at one point, whether it's a union between three wives and a husband, two couples, or a married couple and another man.
It's just human nature. Nevertheless, jealousy is not a valid excuse for toxic behavior. It's not an excuse for snooping through your phone when you're not in the room. It's not an excuse for bombarding you with texts and calls when you're out with a sister wife. It's not an excuse for being the punching bag for their verbal hits and emotional outbursts.
Jealousy can be dealt with in many ways, but when left unchecked, it manifests as toxic behavior that threatens to sabotage your relationship. Couples who have just signed up to sister wife dating sites, especially, need to be wary of these feelings and learn how to manage them.
Once the new energy relationship dies down, couples might find jealousy bubbling under the lovey-dovey surface.
5. They demand privacy but don't reciprocate this trust


An open relationship doesn't mean you have to put all your cards on the table. In any throuple, quad, or polycule, you're still your own person. You are always entitled to privacy when you ask for it, so this point might overlap a little bit with Number 3--respecting boundaries.
For example, you and your partner might have agreed to pursue other people in the relationship separately, and that's fair. What's not fair is if they conceal every detail about their metamour, but demand to know everything going on in your relationship(s).
Again we see an imbalance in the relationship.
How do I fix a toxic relationship with my sister wife or husband?


First, I'd like to revisit two core values I offer to people new to the poly world who are facing issues right off the bat: Question your assumptions and expectations about relationships and then adjust your expectations to discover the best relationship style for you and your partner(s).
When you establish healthy boundaries, you're forced to analyze what assumptions might be holding you back. Is it expecting your partner's absolute time and attention? Is it assuming that every person will be like your first polyamorous lover? Is it expecting to feel no jealousy at all when a new sister wife moves in?
Once you've decided what boundaries you need, then you can change your expectations about your current relationship. Adjust and modify as necessary. Making your needs known to your partner(s) is an essential part of a healthy union, and if your partner or metamour does not want to respect your needs, that's a giant red flag.
If your partner refuses to talk to you every time you try to work things out, counseling or therapy might be the next step. An objective third party with experience in relationships might be able to provide a safe space where you can all feel comfortable tackling sensitive issues.
What if you're still in the dating pool? We know all about catfishing and scammers online, so I recommend our guides on how to avoid getting catfished and how to recognize red flags on poly dating sites. If you know the signs to look out for, then it's easier to remove yourself from a potentially toxic relationship immediately.

Published By: Christopher Alesich
Matchmakers Inc: Sisterwives.com