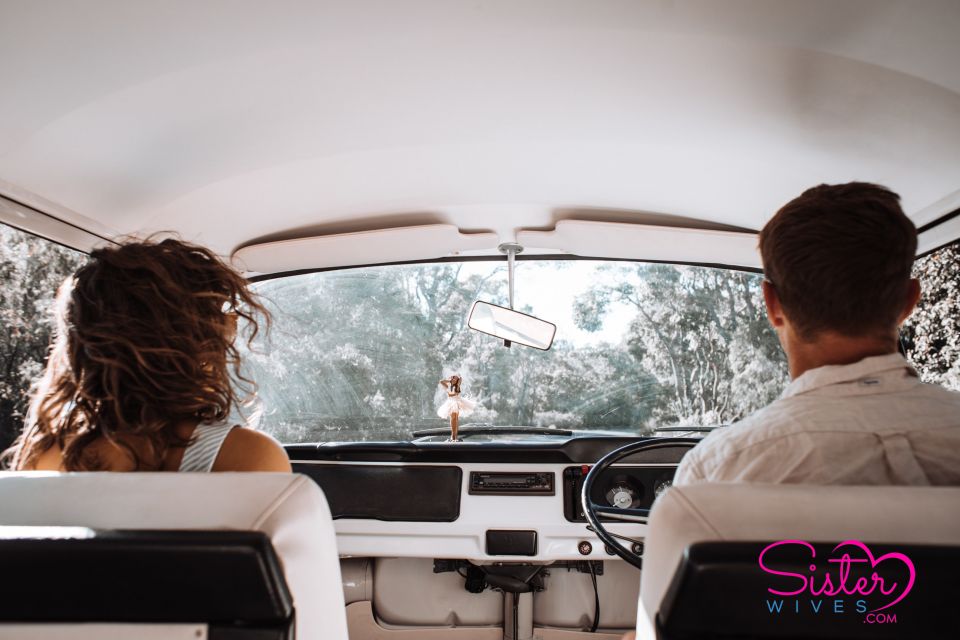 Avoidance is a very natural part of being human. It stems from fear — whether it's fear of the outcome of an event, fear of the difficult feelings that accompany an event, or just general fear of the actual event itself. Whether that's fear of being your true self or fear of sitting down with a loved one and telling them how their actions are hurting you, avoidance is a common escape route.
Avoidance can chip away even at the strongest of bonds between sister wives and husbands. Poor communication skills, unresolved personal issues, and insecurity can manifest as avoidance and extreme fear.
Avoidance can work as a de-escalation tool in the short term. For instance, avoiding a big verbal fight can save you from saying things you don't really mean in the heat of the moment. Avoiding a physical fight means you're thinking sensibly and preventing yourself from getting hurt, potentially in a fatal way.
But avoidance as a coping mechanism? It can lead to relationships crumbling to the ground, in a span of a few weeks or over decades. Let's look at some key examples from Sister Wives and Seeking Sister Wife to fully analyze this very human trait.
Feeling Neglected: A Sister Wife's Catfishing Scandal


Years ago, Meri of Sister Wives was caught in a scandal after getting catfished by a woman posing as a man online. Her reasoning for chatting up strangers online? She felt neglected by long-time husband Kody Brown and needed affection he could not provide.
The issue:


Kody and Meri Brown had been facing marital issues for some time. Kody even went as far as to say he no longer felt romantic affection for his first wife. As a result, Meri looked for it elsewhere.
Bottom line is, Meri did not want to confront Kody about their deteriorating marriage. Yes, they had been attending therapy and needed to put in extra work to maintain their relationship, but at the end of the day, Meri made a choice. And this sister wife chose to avoid expressing her feelings and keep working on her relationship with her husband Kody.
The aftermath:


To this day, Kody feels somewhat betrayed by Meri seeking connection from internet strangers. This isn't to say Kody doesn't share the blame for their declining marriage, but now both must work to repair the damage. Presumably, Meri feels the weight of her decision — as we all do when we make decisions based on fear and insecurity.
But what's done is done, and by avoiding the hard work of repairing a marriage and laying their feelings out on the table, Kody and Meri's relationship is still recuperating.
Jealousy: Paige McGee of Seeking Sister Wife


Another emotion humans tend to gloss over is jealousy. Even before the late Bernie McGee began testing the waters for finding a sister wife, wife Paige McGee was already anticipating jealousy. When he dove into the sister wife dating pool, Paige experienced these feelings a thousandfold.
The issue:


I'm no psychologist, but I believe that root of jealousy in sister wife relationships is partly the immense worry that your partner will like their new love interest so much that they'll leave you behind to start a new life. And this is a valid fear. What if all those years you've dedicated to building a life with this person is suddenly gone because they're electric with new relationship energy?
That's likely what Paige felt, alongside the primal feeling of seeing her husband express interest in and spend time with other women. According to sources, her jealousy did not even stem from hearing family members speak about her husband's interactions with other women: it was just pure jealousy.
In this case, Paige avoided dealing with her intense feelings. She did not ask herself how she could manage jealousy, giving herself the grace needed to confront such strong feelings. Instead, she was consumed by them and in the end, she and her husband could not pursue a relationship with a new sister wife.
The aftermath:


Again, Paige and Bernie could not bring in a sister wife to their life because of Paige's jealousy. It's completely normal, and it's one of the main reasons why exploring polyamory and polygamy can feel daunting. What do you do when you enjoy a sister wife's companionship and love, but still feel resentful when they spend the night with your shared husband?
Don't let things fester


Just from the two instances above, we can see that not talking things out — avoiding potentially difficult conversations — can lead to some pretty bad consequences. They can lead you to miss out on life-changing opportunities or creating irreparable damage.
What's more, avoiding these feelings usually indicate that we need have a talk with ourselves. When we accept that some feelings just can't be avoided in a polygamous relationship, we're more like to face them with the assurance that we'll come out on the other side as a better person.
We're more likely to look jealousy, resentment, and insecurity in the face and say: I see you, I acknowledge you, and I have the power to move on from you. Of course, this is easier said than done. When we are in the middle of a rough patch (either for personal, interpersonal, or professional reasons), it can be easy to get lost in the tunnel and never see anything beyond another dreadful day.
But listen. Avoiding your feelings only makes you feel worse. It feeds negative energy that can make even the simplest issues feel Herculean. So I challenge you today to be brave and confront life and your relationships with newfound confidence. Because relationships are never easy, but healthy relationships are so worth the fight.

Published By: Christopher Alesich
Matchmakers Inc: Sisterwives.com