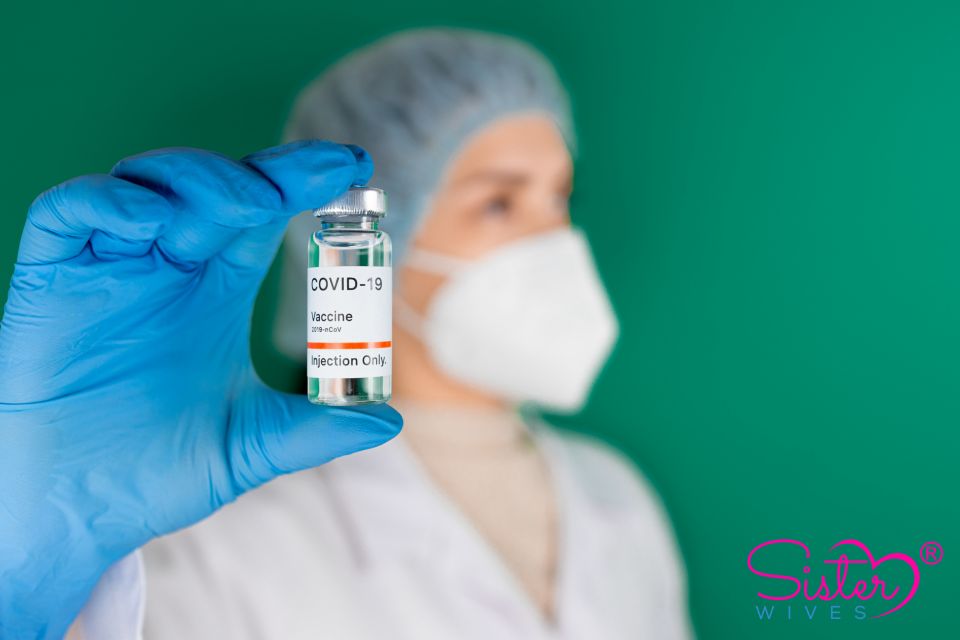 One of the growing trends in the dating world, not just among polygamous relationships, is the growing importance of vaccine status. In a survey by Pew Research Center from July 2022, 47% of the respondents who had used a dating site or app in the past year said COVID-19 vaccination status was at least somewhat important when looking at someone's dating profile, and 23% said this information is very important to them.
What does this shift mean for polygamous relationships and poly dating services?
Why vaccine status matters more in polygamous homes
Poly relationships can include as few as two people up to dozens, depending on whether the group has children, is casually dating, is cohabiting, etc. With this many people involved, taking risks with safety issues like pandemic and vaccination statuses is neither practical nor responsible.
If anything, the pandemic has shown us that polygamous families (as well as multi-generational households) are more vulnerable to infectious diseases such as COVID-19.
Case in point: TLC's Sister Wives
In the newest seasons of Sister Wives, Kody's strict pandemic rules were a pain point for the sister wives. While it can be argued that Kody had everyone's best interests at heart by enforcing social distancing and quarantine rules, he seemed to cherry-pick from his guidelines at his convenience.
For example, he missed one of his children's major surgery appointments because he allegedly wanted to avoid travel and keep the rest of his family safe during peak pandemic times. Fans (and the sister-wives) were quick to notice that Kody stopped making his rotations and stayed with Robyn and their shared children for the bulk of the pandemic.
Although Kody approached COVID-19 best practices from a misguided direction, it still stands that polygamous and polyamorous relationships were put on pause during the pandemic, more so than their monogamous counterparts.
Frequent meetings between multiple households simply weren't feasible when there was a highly contagious disease around, and some polygamy dating sites adapted to these circumstances.
What this means for poly dating sites
Poly dating sites have been catering to different needs and current events since the COVID-19 pandemic was announced in 2020.
1. Vaccine status as a deciding factor
In the survey I mentioned, many respondents said that seeing vaccine status was at least somewhat important or very important on someone's dating profile. Some companies have allowed users to display badges on their dating profiles in the past, and many users simply indicate their status on their dating profile bio.
2. Political affiliation is now important on dating sites, too
Like any hot topic, vaccination is often a political debate. Of the survey respondents, 53% said it is at least somewhat important to see someone's political affiliation on their dating profile, while 18% say it is very important.
Moving forward, it may be more common to see someone's political affiliation on dating sites. This seems a natural shift particularly for polygamy dating sites since polyamory and polygamous marriage are polarizing issues discussed through a sociopolitical lens.
3. More video calls and phone calls before in-person meetings
To practice caution and safety, people on dating sites are having more video dates and phone call conversations before they meet in person. The report found that 28% of Americans who used dating sites in the past year have gone on a virtual date first either by phone or video call.
Video calling (available on reliable poly dating sites like Sister Wives) helps prevent romance scams by vetting a person before you meet, and it's also necessary when physical meetings aren't feasible, like during a pandemic.
What this means for poly dating
COVID-19 may have taken a lot from us, but it has also renewed a sense of mindfulness when it comes to poly dating.
1. Take more time getting to know people
This shift to a slower, more careful way of dating is another trend we see in monogamy and polygamy dating. Now, we draw important information from someone's vaccination status and political leanings, on top of their career choice, hobbies, and other interests.
2. Prioritize emotional fulfillment over immediate physical needs
When we don't (or can't) jump into relationships due to external factors like COVID-19, we prioritize emotional fulfillment as opposed to dating as many people as we can. Another unintended consequence of the pandemic and the vaccination status trend is increased sexual safety.
Fewer physical interactions and higher risks associated with meeting someone for the first time have led to more caution in the bedroom.
3. Less spontaneous outings
In the same vein, people who date are less likely to go on spontaneous outings that involve alcohol and other risk factors. Meetings are more intentional and mindful, especially for people who are in a polygamy relationship and who have to consider multiple people's safety and their own.
4. Increase in communication, openness, and vulnerability
When we're more mindful about who and how we date, we put our needs first. Dating trends show that we're now more open about telling potential partners what we want out of a relationship - a phenomenon called 'prioridating.'
We seek a single priority in dating someone, whether it's emotional support, financial wellness, or sexual satisfaction. This way of thinking in poly dating allows us to view relationships as a mutually enriching experience, not something that just takes from our emotional, financial, or mental wells.
Vaccine status and well-being in a poly relationship
Ultimately, asking for someone's vaccine status allows us to prioritize our health and well-being. The shift towards being open about vaccination status (and whatever political affiliations it comes with) has trickled over to another trend, which is being more open about our needs and relationship priorities.
Loss, health scares, and mental exhaustion is part of the COVID-19 aftermath, but the poly dating world may be better off by emphasizing mindful habits, honest communication, and self-care.

Published By: Sister Wives
Matchmakers Inc