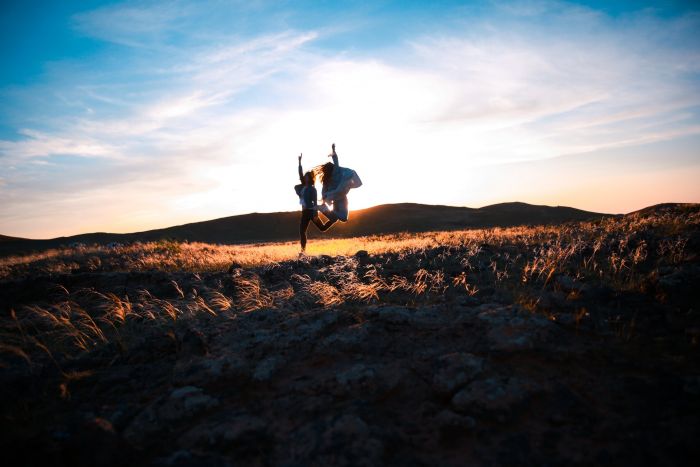 While polygamy is a form of polyamory it suggests a more committed relationship involving multiple people. This is not to say that a polyamorous family or group isn't committed to each other and practicing fidelity, nor is it to say polygamy requires your family or group to be in a closed situation. Your relationships and standards are yours to determine and the descriptor you choose for your relationship style is your business. For the sake of this article I'm using an assumption that polygamy and polygamy dating have a preference and direction toward a closed group or family and long term commitments. How does it work with more than two people building a life? Where does sex fit in? What are the limitations? How can you be sure nobody feels like a third wheel?
It's easy to pretend everyone in a plural relationship plays an equal role. The truth is that each person adds a unique element and their roles can be stronger or more passive depending on their preferences for involvement. When a man is looking for a sister wife to join his family he shouldn't shy away from discussing what roles are needed in the family. This is not to coerce a woman into a family life that doesn't suit her, rather it's to be transparent about motivations and begin a discussion about if this family is right for her. Sexual persuasions also play a role in polygamy dating. A bisexual woman with an intent to be sexually involved with her sister wives cannot pretend to be happy with a fully heterosexual family. The first step to long term family or poly group success is to make sure everyone is on the same page.
A refreshing idea polygamous women can enjoy is less pressure to have kids, or not. A woman that wants to be a sister wife, but cannot imagine going through a pregnancy, doesn't have to feel she's taking anything away from a husband that wants kids. Beyond having kids is raising them. A sister wife that doesn't want to raise kids doesn't have to live under the same roof with any kids from her sister wives. Removing the idea that a woman's role is to have and raise kids for her husband is wonderfully liberating for females. Relationships based on love rather than obligations will produce healthier outcomes for everyone involved.
Even with love at the core of your relationship, obligations are unavoidable. Beware of people that only want to be involved with your polygamous family on their own terms. With all this talk of individuals being able to live more honestly and be their true selves it's easy for the concepts to be interpreted the wrong way. If a polygamist man finds a potential sister wife that makes it clear she only wants to sleep with him, he has a problem on his hands. Living under her own roof and even keeping mostly to herself can be acceptable, but it will require discussion with all his sister wives as to how much involvement (or lack of) they're comfortable with. At what point is she not a sister wife, but just a mistress? Such boundaries need to be discussed and agreed upon.
Boundaries can be tough. Whether you're a sister wife meeting a new potential sister wife or man for your family, or a man that's courting potential sister wives or men, you have to know and respect boundaries. If you feel any boundaries are too strict you have to discuss it. Never break a boundary your family believes you've agreed to because you don't like it. If your feelings are within reason, chances are the limitations in place can be adjusted. Don't risk it all because you don't have the guts to reveal your feelings to your lovers. The same goes for everyone in the family. If you're feeling something isn't right for you, bring it up!
Any time more than two people are involved there is a risk of someone feeling like a third wheel. There are situations where this can't be avoided so a certain level of acceptance is a must. If, however, a lover feels this way most of the time it needs to be addressed. It can be difficult to detect someone else is feeling like a third wheel. You're having fun, they're trying to keep a good face up, everyone is acting like everything is fine because nobody wants to ruin the day. Pay attention to your behavior and communication. Are you being intentionally inclusive? Are you taking turns in the front and back seat? Is an unreasonable amount of conversation being directed to only one partner? Are there unresolved issues between any partners you can help settle? A polygamist family or poly group has unique challenges because multiple hearts and minds are involved. Dividing your attention sufficiently between all of your lovers will avoid heartache none of you want to cause. This includes sexual attention and being supportive of your lovers exploring their sexual desires. Nothing can make someone feel like a third wheel quicker than a genuine part of them being ignored or even ostracized.
Polygamy dating and life can be complicated if you let it. It's a form of polyamory that typically adheres to more traditions than polyamorous groups choose to follow. Open minds, open hearts, and open arms along with open communication will help any polygamous group find their way to a joyous life together. Respecting tradition is a good thing but keep in mind the importance of allowing your lovers to evolve as well. The only rules that matter are the rules you and your family decide on in order to grow together. Never neglect to offer your contributions to the discussion, and never make any partners feel their contribution is unwanted or unacceptable. The love and acceptance you foster among your lovers needs to be nurtured so it can keep growing. Your love, life, and sex can endlessly evolve for the better and your family can become an example for others to follow. Positive role models in the polygamy world will encourage continued growth and acceptance. With this, even more people will be willing to consider such a rewarding way of life.

Published By: Christopher Alesich
Matchmakers, Inc: Sisterwives.com